Loading...


Environment



Monday, July 21, 2014




High bacteria levels still a concern at Lake Erie beaches




Damaged pipe spills raw sewage into the lake while state officials seek short-term solutions to problems with aging sewer system




Story by

TERRELL JOHNSON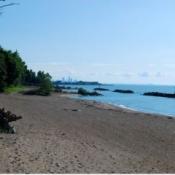 The beaches at Euclid State Park along with Villa Angela State Park have been at the contamination advisory level for almost two months.
Courtesy of WKSU
Download (WKSU Only)
In The Region:
Bacteria levels in beaches at Euclid State Park and Villa Angela are an ongoing issue for northeast Ohioans. After months of investigating, the Northeast Ohio Regional Sewer District discovered a major problem with an underground sewer line at a Euclid Beach trailer park. It found a hole in a pipe that carried raw sewage and storm water into Lake Erie. That elevated bacteria levels and led to swimming cautions. Frank Greenland, director of watershed programs, says local communities need to address such problems.
"Every day, we go out early in the morning and collect samples of beach water in Edgewater, Euclid and villa and analyze those samples for bacteria levels. We have worked with the U.S. Geologic Survey on a computer model that's called a Nowcast System that predicts beach water quality on a daily basis."
Although the district has reduced raw sewage discharges significantly over the years, it still says a $3 billion sewer project is the best long-term solution.
---
---
Stories with Recent Comments