Loading...


Health and Medicine



Tuesday, July 22, 2014




American Red Cross in need of blood and platelet donors




Blood donations needed after a summertime decline in student donors




Story by

TERRELL JOHNSON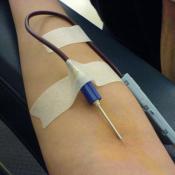 The American Red Cross blood donations have been down 8% over the two months. An urgent call is being made to prevent any emergencies.
Courtesy of Wikipedia
Download (WKSU Only)
In The Region:
The American Red Cross is facing a looming blood shortage due to a summertime drought in donors. Blood of all types is needed, especially those with type O negative, B negative and A negative. Christy Sabaka, communications manager for the American Red Cross, says the summer months are always difficult.
Sabaka says, "Donations to the American Red Cross have been down about 8% over the last 11 weeks. That's resulted in about 80,000 fewer donations than what we expected. We've just seen less donors coming forward to give and the Independence Day holiday fell on a Friday and we just didn't have as many people coming to give or as many blood drives scheduled."
Sabaka says approximately 20% of the blood they collect comes from high school and college students who don't contribute as much during the summer.
---
---
Stories with Recent Comments