Ukrainian-American Dr. Maria Strus works with the Cleveland Clinic and other area hospitals and heads the Ukrainian Medical Association of North America's Ohio chapter. For decades the group has aided Ukrainian children suffering from chronic illnesses. But after violent protests broke out there late last year, Strus says Ukrainian officials and doctors began seeking advanced treatment for other patients.
Ukraine's medical system being stressed by the violence
"Some of the types of injuries, which include many burn injuries, require specialized care that exceeds the availability there. To be more specific, I was told the only burn hospital is located in Donetsk, Ukraine, which is located in one of foci of the war right now that's taking place in Ukraine."
Strus has been working through the maze of visas and Ukrainian instability to bring eight patients to Cleveland. Last month, Volodymyn Mochan was the first to arrive. He's living with a host family in Westlake, waiting for major reconstructive surgery for head wounds scheduled for next week. With Strus interpreting, Mochan explains why he risked his life protesting on Kiev's Maidan Square earlier this year.
"He states that, without Maidan there would be no Ukraine.It's because of Maidan that Ukraine has a potential to continue to exist. He feels he didn't want the Russian influence destroy Ukraine."
Cleveland patient shot twice during Ukrainian protests
The 37 year old Mochan says a sniper shot him in the head during the protest, but he wasn't severely injured. He returned two days later, and was shot again, this time in the cheek. That bullet exploded, tearing up the inside of his mouth and shattering facial bones.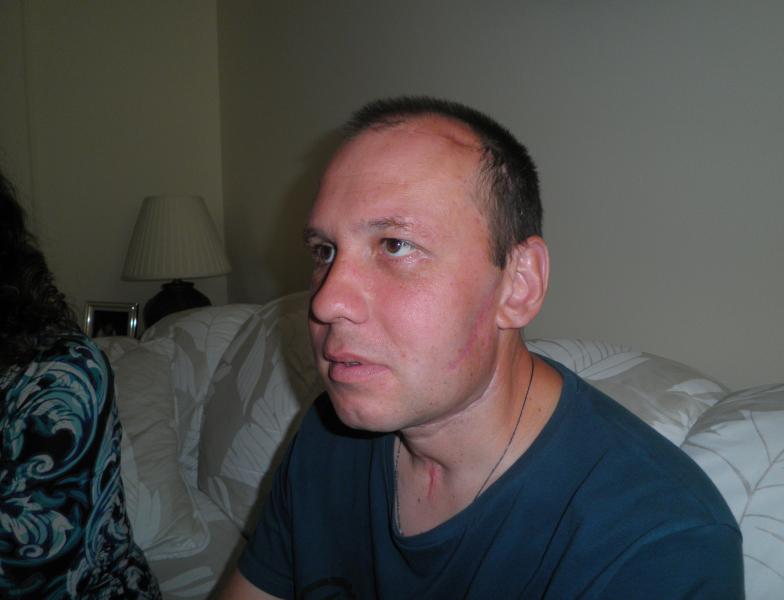 The injuries make it hard for him to eat, drink and talk. He was first treated in Kiev and then in Poland before making it to Cleveland. Strus says he's one of the lucky ones. Plans are on hold to bring over a burn victim and a man with a severe leg injury.
"One gentleman, the one accepted by the Cleveland Clinic, has not been located and they're having difficulty finding his whereabouts in Ukraine. The other individual has deteriorated and is now undergoing emergency surgeries to stabilize him and prepare him for transfer here, eventually."
Two of the other patients originally bound for Cleveland recovered enough to stay in Ukraine, a patient with a leg injury got worse and doctors had to amputate instead of sending him here, and two other patients disappeared and Dr. Stru's group was told they were killed. And any plans to fly the injured out were further complicated recently when a passenger plane was shot down over Ukraine.
Malaysian passenger plane downing adds more problems
"As the visas were being prepared for processing for these individuals, the event with Malaysian Airlines occurred and created another delay in the process."
Strus says America Airlines is willing to fly patients to Cleveland, if her group can somehow get them to Germany. Much of the organizing for the patient evacuations from Ukraine is being done by the Ukrainian Federation of America. The group works on humanitarian causes in Ukraine and is funded by donations from the Ukrainian-American community.


Its president, Dr. Zenia Chernyk, says eight patients are receiving pro-bono treatment at hospitals in five U.S cities including Cleveland. Two others have already come and gone. But, she's concerned about Ukraine's escalating violence.
Nationwide effort to help injured Ukrainians in U.S. also stressed
"We planned to treat 12 in this country but the scenario had changed dramatically so I don't know what our capability of helping is going to be. More so, there's difficulty transporting these people from this new conflict because they're much more seriously injured that from the ones from the initial conflict."
Meanwhile, Cleveland patient Volodymyn Mochan is anxious to get home to his wife and two young daughters, though he's not too concerned about their safety because they are in the more peaceful western part of Ukraine. After he recovers, he also hopes to return to his job as a railroad mechanic.