Loading...


Environment



Tuesday, July 29, 2014




Toledo harbor will reuse sediment instead of throwing it back in the lake




Environmental groups says the new program will help curb toxic algae blooms




by WKSU's LYNDSEY SCHLEY



Reporter
Lyndsey Schley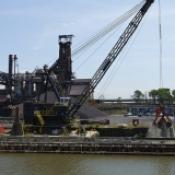 Some sediments collected by dredging, seen here in Cleveland's harbor, will be used as fill dirt or compost.
Courtesy of Port of Cleveland
Download (WKSU Only)
In The Region:
A pilot program in Toledo is finding other uses for dredged sediment from Lake Erie to avoid throwing it back in the water. Kristy Meyer of the Ohio Environmental Council says Lake Erie's harbors must be dredged every year to make way for ships. However, that material is generally rich in phosphorus and nitrogen, which can feed toxic algae blooms.
"Also, just dumping that sheer amount of sediment into the lake can smother habitats," Meyer says. "So there's a lot of issues with this practice and so we really do need to phase this practice out."
Meyer says even with the pilot program, some of the dredged material will still be thrown back into the lake. But part of it will be used for compost and fill dirt. They would take in only clean dredging with contaminated material disposed elsewhere. Governor Kasich has pledged $10 million towards the program.
Meyer says, as the state sees the benefits, she hopes to see lake dumping end altogether.
---
---
---
Stories with Recent Comments