Loading...


Government and Politics



Wednesday, July 30, 2014




Department of Health urges Ohio parents to avoid SIDS




Advocacy groups say Sudden Infant Death Syndrome is best avoided by making sure babies sleep on their backs in cribs




by WKSU's ANDY CHOW



Reporter
Andy Chow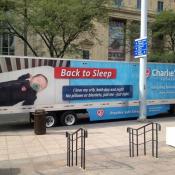 The state of Ohio is encouraging parents to make sure their babies sleep safely in a crib.
Courtesy of KAREN KASLER
Download (WKSU Only)
In The Region:
Ohio is the 48th worst in the nation when it comes to infant mortality rates. The Ohio Department of Health is hoping to lower that number with a campaign to remind parents that infants should sleep only by themselves, on their backs, and in cribs or bassinets. The state is working with advocacy groups, including the Charlie's Kids Foundation. It was started by Maura Brent Hanke and her husband, of Cincinnati, after their 3-week-old son Charlie died in 2010 after falling asleep on his napping father's chest.
"So when trying to calm your newborn at 2 a.m. or sneaking in a few extra 'z's' during the day, think of our Charlie," Hanke says. "We want you to know that your baby is safest on her back, alone, in the crib. This has become one of our life's missions."

Data shows most sudden infant deaths in Ohio happened when babies were sleeping in adult beds or on sofas or chairs. The Charlie's Kids Foundation has been distributing a children's board book on safe sleeping. The state has bought copies of the book to hand out as well.
---
---
---
Stories with Recent Comments