Loading...


Ohio



Wednesday, July 30, 2014




Justice Department weighs in on Ohio voting limits




Eric Holder files a "statement of interest" in the lawsuit seeking to overturn those limits


by WKSU's M.L. SCHULTZE


Web Editor
M.L. Schultze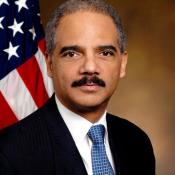 Eric Holder has made voting rights a key issue of the Justice Department.
Courtesy of U.S. Department of Justice
Download (WKSU Only)
The U.S. Department of Justice has filed a 'statement of interest' that joins in the challenge by the NAACP and others against Republican- limits on early voting in Ohio. Attorney General Eric Holder had indicated two weeks ago that the Justice Department might get involved in the suit, which is being handled by U.S. District Judge Peter Economus. The civil rights and voting groups are asking Economus to reinstate early, in-person voting hours that were cut by Republican lawmakers and Secretary of State Jon Husted. That includes the so-called Golden Week, in which people could register to vote and cast their provisional ballots at the same time. Economus already has ordered Husted to reinstate voting on the Sunday before an election. Husted says he is simply trying to establish uniform voting throughout the state. Democrats say Republicans are trying to use non-existent voting fraud to try to keep those leaning Democratic from casting ballots.
---
---
---
Stories with Recent Comments