Loading...


Ohio



Friday, August 1, 2014




FitzGerald denies anything improper occured with woman in his car




The Democratic gubernatorial candidate and his wife call it a personal attack that is "untrue and opportunistic"


by WKSU's M.L. SCHULTZE


Web Editor
M.L. Schultze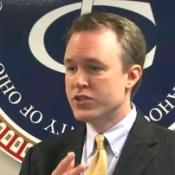 Cuyahoga County Executive FitzGerald says he's being smeared.
Courtesy of File photo
Download (WKSU Only)
Gubernatorial candidate Ed FitzGerald says any suggestion that he was sexually involved with a woman in a car police found in a parking lot in 2012 is false. In a joint statement issued with his wife, FitzGerald adds, "We are confident that this attack will be exposed for what it is -- untrue and opportunistic." Cleveland.com broke the story this afternoon that police found FitzGerald with an unidentified woman after they got a call about a suspicious car at 4:30 on a Saturday morning in October 2012. The man who called told the police the car had been in the industrial complex lot for about a half an hour. FitzGerald was – and remains – Cuyahoga County executive. He said the woman was a family friend and part of a delegation visiting from Ireland, and that he was driving one of two host cars for the delegation that got separated.
---
---
---
Stories with Recent Comments