Loading...


Government and Politics



Friday, August 1, 2014




Ohio's Sen. Portman explains why he voted against highway bil




The Republican says he would prefer a long-term solution for infrastructure funding problems




by WKSU's STATEHOUSE BUREAU CHIEF KAREN KASLER



Reporter
Karen Kasler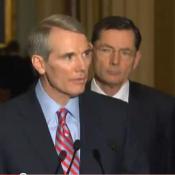 U.S. Rob Portman says the highway bill that the senate passed was not a long-term solution.
Courtesy of WKSU FILE PHOTO
Download (WKSU Only)
In The Region:
With funding for highway construction projects set to run out within days, Congress passed a last-minute bill Thursday to prevent a cut in federal highway and mass transit funds. But Ohio's Republican senator was one of 18 who voted against the bill. Rob Portman says it was a short-term fix that raised fees in areas that do not involve transportation and that it does not solve the long-term problem.
"My own view is that by taking the program out of Washington and taking it back to the states for the most part, we'd be able to save a lot of money," Portman says. "The state of Ohio is perfectly capable of determining where gas tax money goes."

Ohio's Democratic U.S. Sen. Sherrod Brown voted for the bill, but prefers a six-year transportation funding bill.
---
---
---
Stories with Recent Comments