Loading...


Arts and Entertainment



Sunday, August 3, 2014




Alan Freed's ashes leaving the Rock and Roll Hall of Fame




Other artifacts will remain from the man who coined the term "rock and roll" while on Cleveland radio in the 1950s


by WKSU's KABIR BHATIA


Reporter
Kabir Bhatia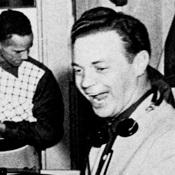 Alan Freed died in 1965 in New York, but his ashed were later brought to Cleveland and installed in a wall at the Rock and Roll Hall of Fame. After being moved to a display case in 2002, museum officials are asking that the remains be removed by Freed's son. Many other Alan Freed artifacts will remain in the Rock Hall collection
Download (WKSU Only)
In The Region:
The man who coined the term "Rock and Roll" is having his ashes evicted from the Rock and Roll Hall of Fame Monday.

In the 1950s, Alan Freed's radio show, "The Moondog House," brought rock and roll to the masses in Northeast Ohio. The Rock Hall was built here largely because of Freed's impact, but now officials say having his ashes on display just causes confusion for visitors. They were originally inside a wall in the museum, then moved to a display in 2002.

Radio programmer Jon Gorman was a key player in bringing the museum to Cleveland, and says he understands the decision.

"The Rock and Roll Hall of Fame is not a mausoleum. What are we going to do, have the ashes of all the great rock stars that chose to be cremated? It just doesn't belong. It just doesn't fit."

Other Alan Freed artifacts will still be on view as part of a chronological history of rock, and Freed's son says he's looking to move the ashes elsewhere in Cleveland.
Here's about a half-hour of Alan Freed on-the-air in Cleveland in 1954



Tim McIntire played Alan Freed in the 1978 biopic, "American Hot Wax." The film features cameos and performances by Chuck Berry, Jerry Lee Lewis, Screamin' Jay Hawkins and many others, and the soundtrack album reached #31 on the charts. But the film itself was a box-office flop, and has never been released on VHS or DVD, despite supporting performances by Fran Drescher, Laraine Newman, Moosie Drier and Jay Leno.


---
---
---
Stories with Recent Comments