It's hard to find anyone around Capitol Square who doesn't see a need to tweak, change or even overhaul the redistricting process in Ohio.
The system in place gives control over drawing the lines to the party that controls the Statehouse at the time. So the lines usually benefit that party. Republican Secretary of State Jon Husted is among those who want to change the redistricting process.
"The districts are sprawling, gerrymandered behemoths in many cases that go all the way from Toledo to Cleveland. Nobody really believes, who is fair minded, that this is a good process. You look at how broken Washington is and you can blame it, in part, on the fact that you have gerrymandered districts where people appeal to the political right or the political left and then send everybody to Washington and say, 'Hey, let's all get along.'"
Husted's plan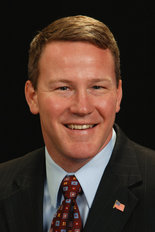 Husted has advocated for legislation to change the process for years, even sponsoring his own.
The latest plan he's advocating to the commission would include a seven-member board – the governor, auditor and secretary of state – and two Democrats from the Legislature and two Republicans from the Legislature. Five of those board members would have to agree to any plan, and that approval would have to be bipartisan, so it must include at least one vote from a member of the minority party.
Some Democrats on the panel want this plan to require two votes, instead of one, from the minority party.
Grotesque distortions
Richard Gunther, a political science professor at Ohio State University, agrees on that point. He has testified before the Constitutional Modernization Commission, saying requiring two minority members to approve a redistricting plan would make it harder for the majority party to focus on a deal to entice one minority member. He calls Ohio's current redistricting method grotesque in terms of representing the preferences of voters.
"In the last congressional elections, we had 52 percent casting ballots in favor of Republican candidates but Republicans received 75 percent of the seats. That's just unfair."
Husted's proposal would also require that districts keep counties and communities intact to prevent gerrymandering.
Competitiveness is overrated
But one person who was invited to testify before the commission disagrees that major changes are needed. In fact, Tom Brunell, a political science professor from the University of Texas in Dallas says competition in districts may be overrated. He testified that when a district is competitive between the two major parties, that automatically means nearly half of voters will feel they are not being represented because their candidate lost.
"Was the benefit of having this competitive election, does that offset all these other costs of having all these voters not well represented in the Assembly or in Congress? In my mind, they don't."
Brunell says the ideal district is one in which the vast majority of voters think alike in terms of ideology. He says competitive districts don't lead to more bipartisanship.
Gunther, on the other hand, thinks competitiveness should be a key consideration but he doesn't think the partisans on the panel are likely to push for it.
Husted's proposal on redistricting changes is the only one so far, and he says he believes the panel is close to coming to an agreement. Once the commission passes a proposal, the Legislature would have to pass it -- perhaps later this year. After that, it would go before voters next fall in 2015.
Up next:
A plan to change or perhaps remove altogether the 150-year commitment in Ohio's Constitution to public education