Loading...


Ohio



Monday, August 4, 2014




AG investigates alleged price gouging for water in Toledo




Ohio has no specific law banning gouging, but jacking up prices could fall under other laws




by WKSU's STATEHOUSE CORRESPONDENT JO INGLES



Reporter
Jo Ingles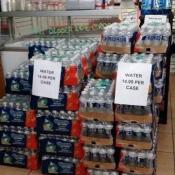 The Ohio attorney general's office distributed this picture, which came from a complaint about price gouging in Toledo.
Courtesy of Attorney General Mike DeWine's office.
Download (WKSU Only)
In The Region:
The water contamination in Toledo over the weekend brought out the best in people as many volunteers worked to ensure residents who needed water could get it. But the situation also brought out the worst in people. Some store owners were reportedly charging up to 15 dollars for a simple case of bottled water. That prompted Ohio Attorney General Mike DeWine who has launched an investigation. DeWine acknowledges Ohio has no law on price gouging.
"However, the law does say that if a practice is unconscionable, that it could be a violation. And so it is an unfair and deceptive practice to dramatically increase the price of in stock products based solely on the response to current events."
DeWine's office is encouraging people to file complaints on line or by calling his office.
The phone number for complaints is 800- 282-0515, or you can go online to Ohioattorneygeneral.gov
---
---
---
Stories with Recent Comments