Loading...


Environment



Monday, August 4, 2014




What it will take for another Lake Erie recovery




Algae blooms are again plaguing the Great Lake


by WKSU's TIM RUDELL


Reporter
Tim Rudell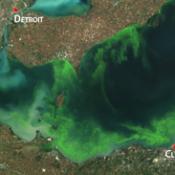 NOAA satellite image of western Lake Erie in the summer of 2011--and the worst algae bloom outbreak recorded for the Lake
Courtesy of NOAA
Download (WKSU Only)
In The Region:
Back 40 years ago – when Lake Erie was called a "dead" lake -- the Ohio Sea Grant program and other research and lake recovery efforts got going. And the big lake did recover…eventually to become the walleye capital of the nation. WKSU's Tim Rudell talks with a scientists from back then, who's still on the job today to find out about the latest algae distress on the north shore.
Jeffry Reutter heads Stonelab, the Ohio State University research programs on the lake. He says when he started in 1971 the slicks of algae had the same chemical cause as today

-- massive amounts of phosphorous flowing into the lake across northern Ohio.

But, in those days, he says, it was coming from sewage treatment. The biggest source today, and this is the big difference between now and the '70s, the biggest source today is agricultural runoff. And so, we need to modify our farming practices to keep the phosphorous on the farms and not allow it to run into the lake.

Reutter says technologies exist and are being developed at Ohio State, Kent State, Bowling Green and other Ohio research universities to improve the ability to keep fertilizer -- so essential to Ohio's agricultural economy--where it needs to be: on the field. Those have to be fully implemented before there will be a repeat of the clean-up of Lake Erie seen a quarter of a century ago.
---
---
---
Stories with Recent Comments