Loading...


People



Wednesday, August 6, 2014




Supporters rally ahead of same-sex marriage court hearing




Same-sex marriage cases from four states are set to be heard Wednesday




Story by

TANA WEINGARTNER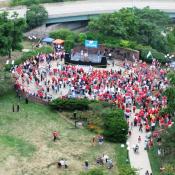 Several hundred people rally Tuesday ahead of the appeals court hearing
Courtesy of Tana Weingartner
Download (WKSU Only)
In The Region:
Several hundred people rallied in Cincinnati Tuesday evening, a day before same-sex marriage cases from four states are set to be heard in the Sixth Circuit Court of Appeals. For Ohio Public Radio, WVXU's Tana Weingartner reports.
Several hundred people rallied in Lytle Park Tuesday evening, a day before same-sex marriage cases from four states are set to be heard in the Sixth Circuit Court of Appeals.

Kim Franklin and Tammy Boyd are parties in the case from Kentucky. Franklin says she and Boyd live every day as a married couple (they were married in Connecticut in 2010) and they want their marriage to be recognized.
"We look at it like we're no different than any married couple," says Franklin. "We're from a small town in Kentucky. We have the same values that our parents instilled in us years ago, the same values that most people have: work hard every day; treat others with respect; treat others the way you want to be treated, and those are the values that we feel need to be highlighted tomorrow and recognized."

Nicole and Pam Yorksmith are part of the case from Ohio. They're fighting for the right of both parents in a same-sex marriage to be named on a child's birth certificate.

With tears in her eyes, Pam Yorksmith says she's overwhelmed with excitement. "It's taken a long time to get here. There's so many people who have fought before us to get us to this point. Overjoyed, overwhelmed, excited beyond belief that this is another step in the process to get all of our families equal protection."

Parenthood rights part of the issue
While politicians took turns at the podium rallying the crowd, new parents Nicole Hoffman and Amy Maier of Cincinnati took a "selfie" with their 10-month-old twins Daphne and Daniel. The pair plan to marry this weekend in Chicago. They're particularly concerned about parental rights. "With Amy being the birth mom, I don't have parental rights in this state. I have custodial rights...," says Hoffman. But she worries about what would happen to the children if something were to happen to her. "(Like what if) something happens to me, [then] they get my social security. Just all of those little things that I guess people take for granted that we don't have. We want to be able to take care of the babies."

Mike Boberg and Ronny Watson of Anderson Township have been together for 21 years and married six years ago in Montreal. "We are now legally recognized in a number of other states but not in our home state. We're both Cincinnati natives and if the court overturns [same-sex marriage bans] it will mean the world to us that we will actually be considered legally married in the state that we call home and have for our whole lives," Boberg says.

Both sides await court's decision
While there was no organized opposition to Tuesday's event, the Cincinnati Archdiocese has called on the faithful to pray "for the court, that it will act correctly to uphold traditional marriage." In a statement, Archbishop Dennis Schnurr writes, "The law in our state was a constitutional amendment strongly supported by Ohio's bishops in 2004, and for good reason. Traditional marriage, the union of one man and one woman for life, is the cradle of the family, which is the basic building block of society."

More rallies are planned for Wednesday. Same-sex marriage supporters and opponents both plan to be outside the Potter Stewart U.S. Courthouse as judges hear from Ohio, Kentucky, Tennessee and Michigan inside.
---
---
Stories with Recent Comments