The news emerged last week that police had found the Democratic candidate, Ed FitzGerald, and a woman he described as a family friend in a car, in a vacant lot, at 4:30 a.m. two years ago. The University of Akron Bliss Institute's Dave Cohen said then that FitzGerald's future political hopes would rest largely on what new revelations came out.
And he says now that the revelations have definitely made things tougher.
"It looks like for over a decade he hasn't had a valid driver's license even as mayor and safety director of Lakewood. … People would have a hard time believing that he didn't drive a car for 10 years, especially when he was caught in … his own vehicle at 4:30 a.m. with a woman who was not his wife."
"The thought that this person didn't drive his own vehicle around for that period of time and was chauffeured by his wife and other people is really going to be hard to believe."
Downticket ripple effect
Cohen says as bad as the news is for FitzGerald, it's likely worse for Connie Pillich and the three other Democratic challengers who are running for statewide non-judicial offices.
"If you're any of the other statewide Democratic candidates for office, first of all, you're really angry. … I think all of them will be running to unhitch their wagons from Ed FitzGerald because at this point, not only is he not going to have coattails. He's going to have a very large anchor."
Cohen says many of those candidates weren't particularly close to or entranced by FitzGerald anyway.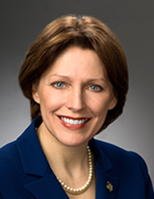 "But the fact is, you rely on the top of the ticket to get your voters out to the polls, your partisan voters. And so if it appears that FitzGerald does not have a shot at winning the governorship, a lot of those Democrats are not going to bother to go to the polls in November. And that's going to hurt people down the ticket. All of those Democrats are challengers. The Republicans are all incumbents. In order to knock off an incumbent, you really have to drive your base out to the polls, and the FitzGerald mess is really going to hurt that effort."
Cohen says the Democrat who has the best chance of knocking off a Republican incumbent is Connie Pillich, the state lawmaker, mother and Air Force veteran who's running against state Treasurer Josh Mandel. He says that in part because many fellow Republicans aren't crazy about the controversial Mandel.
"But what's happening at the top of the ticket could very well poison the waters for her."
That's Dave Cohen of the University of Akron's Bliss Institute. Ed FitzGerald has repeatedly denied anything improper happened with the woman, saying the facts have been twisted by operatives for Ohio Gov. John Kasich. FitzGerald did acknowledge he did not have a valid license for years, saying he procrastinated and it is "100 percent" his fault.