Loading...



From WKYC.COM / TV 3
Get the latest school closings and delays


Funding for WKSU is made possible in part through support from the following businesses and organizations.
---
For more information on how your company or organization can support WKSU, download the WKSU Media Kit.

(WKSU Media Kit


)
---

Ohio



Wednesday, August 6, 2014




NASA and weather researchers team up to track Lake Erie's toxic algae




Researchers hope they can better warn algae-prone communities of encroaching blooms




by WKSU's LYNDSEY SCHLEY



Reporter
Lyndsey Schley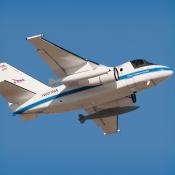 NASA is using planes to track algae blooms in Lake Erie.
Courtesy of NASA Glenn Research Center
Download (WKSU Only)
In The Region:
NASA and the National Oceanic and Atmospheric Administration are teaming up to track and research toxic algae blooms in Lake Erie. Algae gives off unique signatures with light-spectrum imaging. Researchers are working to use this technology to detect what kinds of algae are in the lake and their concentrations. John Lekki, a research engineer with NASA, says this could help algae-prone communities like Toledo, where nearly a half million people were without water last weekend.
"What we would like to eventually have is something where we can get snapshots either from aircraft or satellites and we can anticipate where algae might move," Lekki says. " Water treatment plants would have a little more time to plan how they would treat the water, things like that."
Lekki says the program is now using aircraft, which, unlike satellites, can collect the needed data during a cloudy day
---
---