Curiosity is commonplace on a college campus, but on this cool late summer evening on the Esplanade, Ben Miller's isn't about history, geography or algebra.
"I wanted to come down and try their fries, see if they're like regular stadium fries, see if they're thick cut, go good with vinegar, see how good they are."
They are loaded fries: traditional college pig-out food. But Fork in the Road truck Executive Chef Christian Booher gives them a pork-laden twist.

"Fresh-cut fries, and we top them with pulled pork, cheddar cheese, mozzarella cheese and green onions and a little barbecue sauce."

A meal in itself for 5 bucks, loaded fries are always on the truck's digital menu board. And students can use cash, credit cards or their dining cards to get fries or anything else on the truck, including the $6 Summit Street burger. It's a cheeseburger with something special on top.
"We're going to put some sweet-pepper bacon," says Chef Booher. "That's a creation that we've made here for the truck. It is bacon with brown sugar and red pepper flakes. It's awesome. And then we have homemade bread here. This bread is made here on campus every day. Fresh baked bread. No preservative or anything."
Not like when the chef was in school
Chef Booher graduated from Kent State's hospitality program a dozen years ago. He's worked in the university's kitchens ever since.
He says today's students, having grown up on the Food Network, demand and get better choices than he had.
"You can go out on campus and get Indian food. You can get food off a food truck. You can go to Rosie's and get diner food in the middle of the night."
What was it like when he was a Kent State student?
"I remember over at Eastway -we called it 'greaseway'- we had all kinds of fried foods and a bowling alley downstairs. Food's much better now. Definitely."
Many and diverse food choices
The food truck is one of many options students have at Kent State. They have about 23 locations to choose from across campus.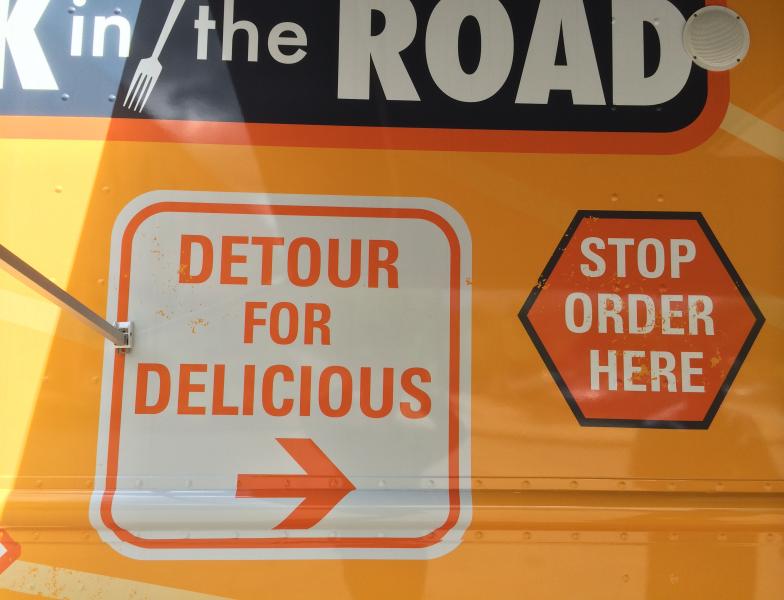 And to match the diversity on campus, Director of Dining Services Rich Roldan keeps the menu global.
"Everything from authentic Mexican, Italian, Brazilian foods, looking at doing some Thai and some rice noodles and Pho and doing some of the trendy things that are out there right now."
Roldan's glad now to have a mobile kitchen and culinary center to keep things rolling.
Inspiration from Cleveland's weekly food truck event
He says he and his staff were inspired by an excursion a couple years ago to Walnut Wednesday, a weekly food-truck extravaganza in downtown Cleveland.
"Everything from Swenson's burgers was out there, Mexican fresh-made products, tacos and burritos to different ethnic foods. It was just amazing to see the different types and the high quality of food.
"This isn't our typical, I would say,' roach-coach' type food. It was truly high-end, culinary driven food, and it was amazing. And at that point we knew this is where we wanted to go."
Packed with equipment and chefs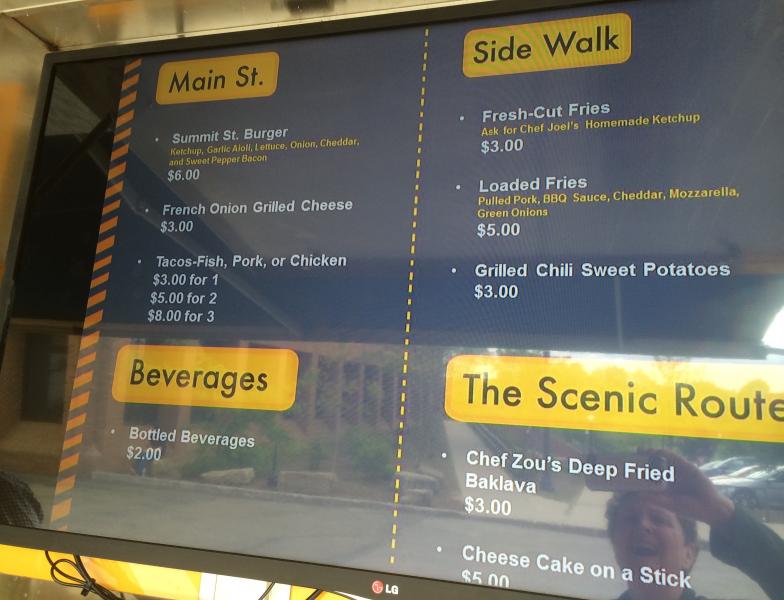 Chef Booher works with up to five students on the 27-foot trailer.
"It gets tight squeezing by each other. Especially when another big guy like me, we gotta like really get cozy."
They're adjusting.
"Just learning to adapt to the small space. It's just a new game."
With lots of shiny new equipment.
"Here I have a turbo chef. It's like an oven on steroids. Then I have a char-griller here, burgers, anything you want. We can pretty much cook anything you can think of on here."
Needs to be fast and not too pricey
With a food truck, as with all food for hungry young people on a tight schedule, Rich Roldan says the trick is to be quick.
"And typically you've got a short window of about 5 minutes to in and out grab their food, pay for it, and be able to go."
Roldan aims to keep it fast, fresh, and affordable. Nothing on the digital board today costs more than a plate of three tacos for $8.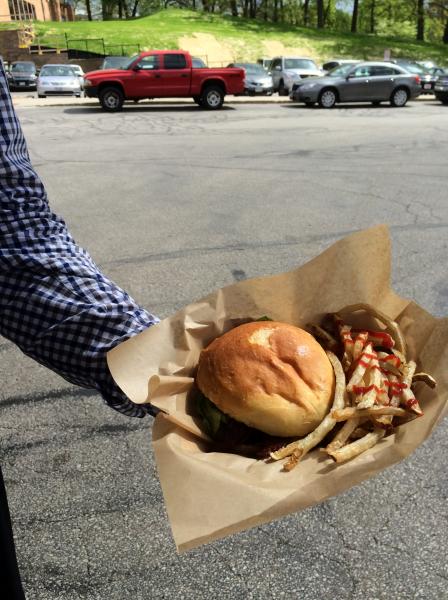 "We bring in great ingredients and you know we're talking fish tacos, and chicken tacos and steak tacos. But we also don't want to be on the high end. But we're going to bring good value for the price of what they're getting."
Easy to find The Fork in the Road
Customers can check the changing menu and locate the truck on Facebook and Twitter.
"We're going to be doing maybe some late nights out by the Esplanade and the Gateway, the entry there towards the city and some special functions.

"We're already booking up the truck as we speak. The sky's the limit or I should say the street's the limit with the food truck. We're going to be able to go anywhere in the area as long as the need and the ability to do so is there."
It might be hard to avoid the dreaded "freshman 15" dining from the food truck, but there's usually at least one lower-calorie option, like Chef Booher's grilled chili sweet potatoes.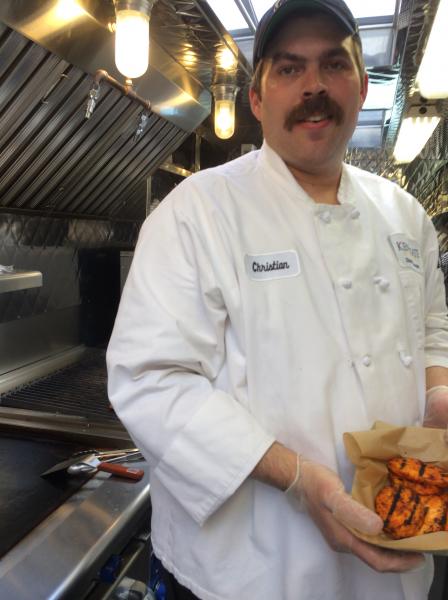 "It's just a sweet potato, tossed with chili powder and salt, a little oil. I'm throwing the sweet potatoes on the grill right now."
It's a big portion, for $3.
And that's this week's Quick Bite. Next week we'll pop up some locally-produced corn.