Loading...


Courts and Crime



Thursday, August 7, 2014




For gay marriage advocates, yesterday's court hearing was far from academic




Ohio AG Mike DeWine made their arguments on why the gay marriage bans in their state should stand




Story by

ANN THOMPSON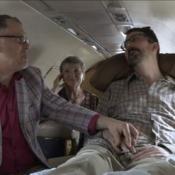 Jim Obergefell and John Arthur married on a tarmac in Maryland shortly before Arthur -- who suffered Lou Gehrig's disease -- died.
Courtesy of Video capture
Download (WKSU Only)
In The Region:
Nobody knows just how long it will be until the 6th Circuit Court of Appeals rules on six same-sex marriage cases from four states.

Ohio, Kentucky, Tennessee and Michigan want cases overturned that grant the right to marry, recognize out-of-state marriages and allow same-sex parents on birth certificates and partners on death certificates.

Jim Obergefell of Cincinnati sued last year, winning the right to be on his husband's death certificate. He was in the courtroom yesterday when judges were posing questions to both sides.
"There were certainly moments when I was very hopeful, it seemed very positive. Other moments during other questioning where I thought, 'Oh, I'm not sure.' I think its what everyone expects in a case like this, moments when you think, 'OK, my side's winning.' Other moments when you're not so sure."

The attorneys for the states urged the court to slow down and let the voters decide the issue. The state of Ohio's Attorney General Mike DeWine said it's been only 10 years since voters passed a law banning same-sex marriage.
---
---
Stories with Recent Comments