Loading...


Economy and Business



Thursday, August 7, 2014




Much of Tower City being sold to unnamed California company




Sale of Cleveland shopping and office complex will not include the Terminal Tower


by WKSU's KABIR BHATIA


Reporter
Kabir Bhatia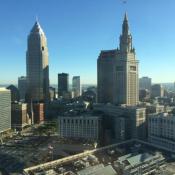 Forest City says it won't identify the California-based company buying Tower City until the deal is finalized
Courtesy of WKSU
Download (WKSU Only)
In The Region:
Much of Tower City in downtown Cleveland may soon have a new owner. WKSU's Kabir Bhatia reports on the future of the downtown centerpiece.
Tower City includes the Avenue shopping complex, a parking garage, the Skylight Office Tower and Post Office Plaza. Those are slated for sale to an unnamed California company, but Forest City will retain the Terminal Tower.

Forest City Spokesman Jeff Linton says the company is concentrating on its core markets, including New York, L.A. and Boston, but it has deep roots in Northeast Ohio.

"Cleveland has been our headquarters location since the company was founded in 1920. And we have no plans to change that whatsoever. Our associates and our executives are deeply embedded in the community [and] call this region home."

Forest City also owns the Halle Building, several apartment buildings in Beachwood and Parma, plus vacant land in the Flats.

The news of the sale came in the company's earnings report this week, which showed a $130 million loss, much of it related to Tower City. Linton says the sale information was included for the benefit of investors. And he says he does not know if the complex will be converted to residential use.
---
---
---
Stories with Recent Comments