Loading...


Sports



Friday, August 8, 2014




Akron says 'Welcome Home, LeBron' tonight




About 30,000 people are expected at the University of Akron tonight


by WKSU's KABIR BHATIA


Reporter
Kabir Bhatia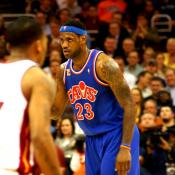 Tonight's 'Welcome Home, LeBron' event will focus on James' "Wheels For Education" program
Courtesy of Brandon Davis
Download (WKSU Only)
In The Region:
LeBron James is being welcomed back to Northeast Ohio tonight, four years after leaving the Cleveland Cavaliers to play with the Miami Heat. WKSU's Kabir Bhatia previews the "sold-out" event.
Akron's native son and the once-again-Cleveland Cavalier will be at the University of Akron, joined by 3,000 kids who have participated in James' "Wheels for Education" program, which provides incentives and encouragement to inner-city students.

All 30,000 free tickets were snatched up. Alison Bisesi from Lorain says James' charity work is one of the reasons his return is being so celebrated in his hometown.

"I think half of it is what an NBA player is supposed to do and it's part of their image. But I like to think he cares about his community and cares about making it better based on his experiences and what he grew up with.

James is slated to recite his "I Promise" pledge during the event, which asks students to stay in school. He'll also be joined by community groups and civic leaders. Doors open for "Welcome Home LeBron" at 6:15 p.m. tonight.
---
---
---
Stories with Recent Comments