Loading...



From WKYC.COM / TV 3
Get the latest school closings and delays


Funding for WKSU is made possible in part through support from the following businesses and organizations.
---
For more information on how your company or organization can support WKSU, download the WKSU Media Kit.

(WKSU Media Kit


)
---

Sports



Friday, August 8, 2014




Tel Aviv and Miami are first opponents on Cavs preseason schedule




The match-up in Miami will be played in Brazil


by WKSU's M.L. SCHULTZE


Web Editor
M.L. Schultze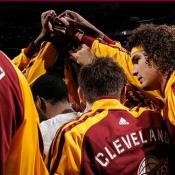 Anderson Varejao will be playing in his home country -- against the Miami Heat.
Courtesy of Cleveland Cavaliers
Download (WKSU Only)
In The Region:
The Cleveland Cavaliers will begin their preseason with a home game against new Head Coach David Blatt's former club, the Israeli-league Maccabi Tel Aviv. Then the Cavs – led by LeBron James -- head to Rio d Janeiro to play the Miami Heat – the team that James just left. Cavs center Anderson Varejao is from Brazil. The preseason begins Oct. 5, and the last game is Oct. 22. The team released its preseason schedule today, but hasn't yet publicly set prices or broadcast details.
Date

Opponent

Location

Time (EST)

Sunday, Oct. 5

vs. Maccabi Tel Aviv (Israel)

Quicken Loans Arena

(Cleveland, OH)

6:00 p.m.

Saturday, Oct. 11

vs. Miami Heat

HSBC Arena

(Rio de Janeiro, Brazil)^

TBA

Tuesday, Oct. 14

vs. Milwaukee Bucks

Quicken Loans Arena

(Cleveland, OH)

7:00 p.m.

Wednesday, Oct. 15

vs. Indiana Pacers

Cintas Center, Xavier University (Cincinnati, OH)*

7:00 p.m.

Friday, Oct. 17

vs. Dallas Mavericks

Quicken Loans Arena

(Cleveland, OH)

7:30 p.m.

Monday, Oct. 20

vs. Chicago Bulls

Schottenstein Center, Ohio State (Columbus, OH)*

7:00 p.m.

Wednesday, Oct. 22

at Memphis Grizzlies

FedExForum

(Memphis, TN)

8:00 p.m.

* Denotes Cavaliers home game at neutral site

^ Denotes NBA Global game
---
---