Loading...



From WKYC.COM / TV 3
Get the latest school closings and delays


Funding for WKSU is made possible in part through support from the following businesses and organizations.
---
For more information on how your company or organization can support WKSU, download the WKSU Media Kit.

(WKSU Media Kit


)
---

Economy and Business



Friday, August 8, 2014




Attorney General sending out kits to prevent senior citizen scamming




Kits will be available at libraries in all 88 counties




by WKSU's STATEHOUSE CORRESPONDENT JO INGLES



Reporter
Jo Ingles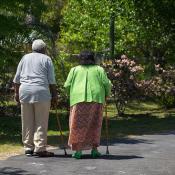 New kits aim to keep senior citizens from being scammed.
Courtesy of Ryan Johnson
Download (WKSU Only)
In The Region:
The Ohio Attorney General's office is sending out special fraud prevention kits to all of the state's 88 counties. Ryan Lippe, the consumer educator at the office, says these kits contain information that will help prevent senior citizens from becoming victims of scammers.
"This kit will be available to libraries so that people who are caretakers, seniors themselves, people who deal with them at the bank or the bakery, all kinds of folks around town will be aware of scams and what the warning signs are that a senior might be involved in becoming a victim of a scam," Lippe says.
Lippe says 2,400 will be sent out. He notes there were more than 26,000 complaints to the agency's consumer protection section last year.
---
---