Liftoff from Burke Lakefront Airport in a B-17 bomber is slower, choppier and noisier than in the sleek private jets and twin engine craft it is parked alongside this week, but far more satisfying.
This particular aircraft is one of only a dozen B-17's still airworthy and is a star in several ways. First, it was a wartime supply plane, then later it was retro-fitted to film the 1990 movie "Memphis Belle", about the first B-17 and the 25 battle missions it flew. It was badly shot up at times, but never lost a man.
Now, she is a rare and visible connection to the youthful crews of the Department of the Air Force when America went to war in support of Europe.

Arthur Mills was along for a preview ride this week. Now 93, he was one of those vets who rode the B-17 into battle.
"It was nice… brought back some memories," Mills says.
300 hours a year
A turret gunner in the service, Mills made more takeoffs than landings in the Flying Fortress, being shot down over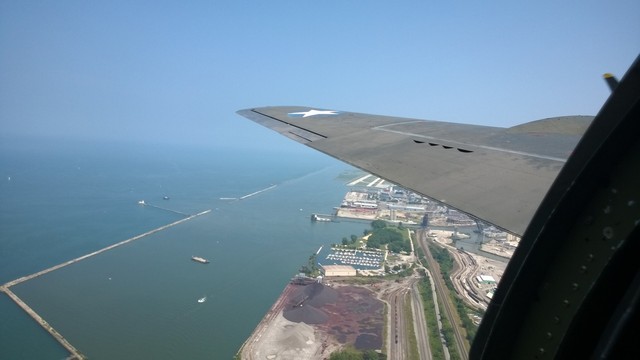 Germany in 1944 by enemy fighter planes and spending the rest of the war as a POW.
At the controls for his flight this time are two volunteer pilots from the Liberty Foundation, a nonprofit flying museum. It takes the Memphis Belle around the nation, flying 300 hours a year for education and nostalgia.
"For me, flying the airplane, and how well it flies, it just shows how smart we were from that time period," Pilot Cullen Underwood says.
Underwood flew the plane, and staunchly believes in showing 'this' generation, what most have never seen.
Special moments
But 'his' thrill comes; from getting to meet the veterans. It is emotional for him.
"Those special moments that I have are when you have the veterans that come out and they've got two, three generations with them, and they'll come to the aircraft and you'll see them just kinda walking around, looking, and they'll reach up and they'll lay their hand on the airplane," Underwood says. "The emotions overwhelm them, because it brings back memories that are long-forgotten, or just suppressed."
Tony Fifer flew B-17's on supply runs in the South Pacific, outside Manila.

"It was nice," Fifer says. "I really enjoyed it."
No one was shooting at him there, but the memories were just as sharp.
"It's been years though since I've been up.... I'm 88," Fifer says. "I know what they were going through."
The plane flies now, as it flew then, with bare wires everywhere, 1940 instrumentation in the cockpit and open side bays with 50 caliber machine guns on a swivel toward Lakewood as we flew.
Further back was a desk with a single telegraph key, for communication back to the rear area. There is no roof at the aircraft's center, and no cabin pressurization, which meant B-17's flew so close to the ground that enemy flak could and did penetrate the non-insulated steel walls. On the canvas straps that served as chairs, there were rudimentary seat belts that 'most' soldiers never used.
Soldiers generally 'stood' for the entire six to eight hour bombing run, most with eyes peeled for enemy craft or. for the front turret gunner, perched beneath the feet of the pilots and looking down from the cramped plastic bubble he rode within, guns at the ready.
You can take a free walk through of the Memphis Belle this weekend at Burke Lakefront Airport. Flights are $450. Underwood says expect the lines to be non-stop.