Loading...


Sports



Friday, August 8, 2014




LeBron's welcome home party is set to begin




Akron says he's kept his promise to "never forget where I came from"




Story by

KABIR BHATIA AND M.L. SCHULTZE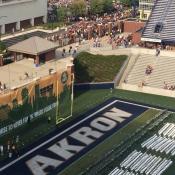 InfoCision was built for football, but it's all basketball and all LeBron tonight.
Courtesy of K. Bhatia
Download (WKSU Only)
In The Region:
LeBron James' welcome home party in his hometown of Akron begins at 7 tonight, but preparations and fans were getting started a lot earlier. A stage, piano and sea of chairs are arranged on the football field at InfoCision Stadium, along with a huge banner reading, "I promise to never forget where I came from." And for many of the 30,000 fans showing up for tonight's party, he never did – even when he left the Cleveland Cavaliers for the Miami Heat four years ago. North Royalton fifth-grader Ted Demarco said he never lost faith that LeBron would return to play for the Cavs.
"I went to a Cavs game and we got really good seats and I sat behind LeBron's wife and kid and we played with each other, so LeBron went over and signed a ball for me."
James – a four-time NBA MVP -- announced four weeks ago that he's returning to play for the Cavs.
Tonight is also a celebration of the charitable work in Akron of James and his foundation. Three hundred new bikes were arranged on the field to be given away to kids participating in James' "I Promise" and "Wheels for Education" programs.
---
---
Stories with Recent Comments