Loading...


Sports



Saturday, August 9, 2014




LeBron James excited for students and Cleveland Cavaliers fans this fall




The four-time MVP says his new teammates are filled with potential


by WKSU's KABIR BHATIA


Reporter
Kabir Bhatia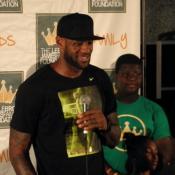 LeBron James says he's not going anywhere, and he's too tired to leave and come back again after his 2010 move to the Miami Heat
Courtesy of K. Bhatia
Download (WKSU Only)
In The Region:
LeBron James had words of encouragement for students Friday, and for his future teammates this fall. InfoCision Stadium in Akron was filled with about 30,000 people welcoming James back to his hometown, part of his "Wheels for Education" initiative. The Cleveland Cavalier recited his "I Promise" pledge to the crowd, encouraging students to study and finish school.

But the four-time MVP also said the teammates he'll be playing with in a few weeks are filled with potential.


"I love Kyrie's game. He could be one of the best point guards in our league. I love the chip on Dion's shoulder. Where everyone looks at [it] as a negative, I look at as [a] positive. Obviously, I don't have to comment on Andy. You give me nine Andy's [and] I'll be the 10th guy. I'll be all right. I can win."

James added he's looking forward to Kevin Love joining the team, part of a trade engineered by the Cavs this week. And he added that he's "too tired" to go through leaving Northeast Ohio again.

Friday's show included speeches by civic leaders, music by Skylar Grey and performances by students and the Cavaliers' "Scream Team" dance troupe.
---
---
---
Stories with Recent Comments