Loading...



From WKYC.COM / TV 3
Get the latest school closings and delays


Funding for WKSU is made possible in part through support from the following businesses and organizations.
---
For more information on how your company or organization can support WKSU, download the WKSU Media Kit.

(WKSU Media Kit


)
---

Economy and Business



Friday, August 15, 2014




Gay Games bring estimated $56.7 million boost to local economy




KSU professor says the economic impact of the event is magnified because of the influx of outside visitors


by WKSU's JEFF ST. CLAIR


Reporter / Host
Jeff St. Clair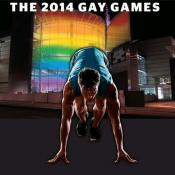 A Kent State professor estimates the 2014 Gay Games added nearly $57 million to the local economy. Organizers put the figure at nearly $80 million in 2006 when the events were held in Chicago.
Courtesy of Gay Games
Download (WKSU Only)
In The Region:
The 9th International Gay Games wrap up Saturday with events scheduled in Akron and Cleveland. Organizers say about 33,000 people will have visited northeast Ohio during the week-long event. Kent State University economics professor Shawn Rohlin estimates the games will add nearly $57 million to the local economy. Rohlin says the impact is amplified because the dollars come from outside the region.
"That's really where the money is," according to Rohlin. He says the economic impact is dependent on how many out-of-town people you bring to the area, "and of course the Gay Games brings people from all over the world to come to Cleveland." He says his estimate looks at money that would not have been spent in Cleveland or Akron had the event not taken place.
Rohlin says for every million dollars spent in the region the equivalent of 20 full-time jobs are created.
---
---