Loading...


Education



Monday, August 18, 2014




Cleveland area's younger population ranks eighth in advanced degrees




Cleveland State University study shows the area has a high population of highly educated 25- to 34-year-olds




by WKSU's LYNDSEY SCHLEY



Reporter
Lyndsey Schley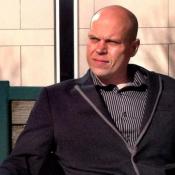 Richey Piiparinen of the Center for Population Dynamics says younger people in the Cleveland area are highly educated.
Courtesy of Cleveland State University
Download (WKSU Only)
In The Region:
A study released today from Cleveland State University shows that young people in the Cleveland and Akron area have the 8th highest levels of attainment of advanced degrees in the country. Richey Piiparinen heads the Center for Population Dynamics at Cleveland State. He says most studies gauge educational attainment by the population that is 18 and older or 25 and older. That puts metro areas like Cleveland and Pittsburgh -- who have a larger older population -- at a disadvantage, skewing the effect of younger workers. But looking just at the younger segment, 16 percent of the 25- to 34-year-olds in the Cleveland metro area have advanced degrees, and Piiparinen says those people create jobs.
"When you create one local manufacturing job, there's an additional two jobs in the local economy," Piiparinen says. "But when you create on high-skilled job, there's five jobs additional created in the local economy. So that's really important because it's the high-skilled jobs that are really creators of broader job growth."
Pittsburgh placed third nationally in advanced degrees among the young. About a third of the younger population had college degrees in the Cleveland area, it ranking 25th nationally.
---
---
---
Stories with Recent Comments