Loading...



From WKYC.COM / TV 3
Get the latest school closings and delays


Funding for WKSU is made possible in part through support from the following businesses and organizations.
---
For more information on how your company or organization can support WKSU, download the WKSU Media Kit.

(WKSU Media Kit


)
---

Education



Monday, August 18, 2014




Gov. Kasich says Tressel is part of the sun rising over Youngstown




Tressel tells the audience that service to others is 'what we're here for'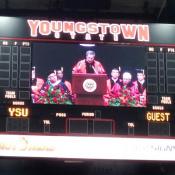 Governor John Kasich was the keynote speaker at Jim Tressel's "installment" as YSU president. Both were on camera on the overhead scoreboard in the Beeghly Center so the crowd of several thousand could see them
Courtesy of WKSU
Download (WKSU Only)
In The Region:
The man who brought national championships to Youngstown State University as its head football coach in the from 1986 through 2000 took the oath of office today as the schools ninth President. The keynote speaker was his long-time friend, Ohio Gov.John Kasich. WKSU's Tim Rudell reports.
Jim Tressel is now formally installed as Youngstown State University's president. He's actually been on the job since June but this was the traditional ceremony
in which, among other things, the new president is given the school seal.

And it was a colorful affair with hundreds of YSU faculty and staff and visiting dignitaries from colleges and universities around Ohio and Pennsylvania decked out in their academic robes.
Gov. John Kasich addressed the group, and the audience that filled much of the Beeghly Center where YSU's basketball team plays,
and called Tressel the right man at the right time.

"We've got somebody back here who is a doer, who has integrity, who has energy, who has vision,who understands teamwork.. No room for turf,no room for fighting. You see, the the sun is coming up again in Youngstown, but it has not reached its zenith."
Among Tressel's challenges are a budget squeeze that has already led to staff cutbacks
and declining enrollment.
Page Options

Print this page

E-Mail this page / Send mp3

Share on Facebook
---
---
Stories with Recent Comments