Jim Tressel is now formally installed as Youngstown State University's president. He's actually been on the job since June but this was the traditional ceremony
in which, among other things, the new president is given the school seal.

And it was a colorful affair with hundreds of YSU faculty and staff and visiting dignitaries from colleges and universities around Ohio and Pennsylvania decked out in their academic robes.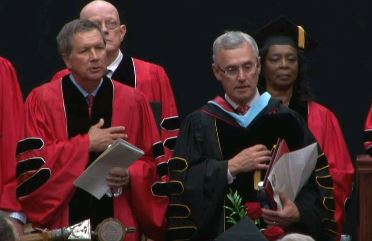 Gov. John Kasich addressed the group, and the audience that filled much of the Beeghly Center where YSU's basketball team plays,
and called Tressel the right man at the right time.

"We've got somebody back here who is a doer, who has integrity, who has energy, who has vision,who understands teamwork.. No room for turf,no room for fighting. You see, the the sun is coming up again in Youngstown, but it has not reached its zenith."
Among Tressel's challenges are a budget squeeze that has already led to staff cutbacks
and declining enrollment.