Loading...


Government and Politics



Wednesday, August 20, 2014




Cleveland's Fudge and the Black Caucus fight end of the NFL blackout rule




They say it would spur a shift to cable, and hurt poorer viewers


by WKSU's M.L. SCHULTZE


and

KAREN KASLER



Web Editor
M.L. Schultze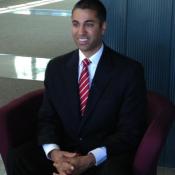 Ajit Pai says the rule has outlived its usefulness; Fudge says change could hurt those who can't afford cable.
Courtesy of KAREN KASLER
Download (WKSU Only)
In The Region:
Cleveland Congresswoman Marcia Fudge and the Congressional Black Caucus she leads are fighting a move to end the TV black out rule for pro sports. Currently, FCC rules impose the blackouts on over-the-air TV broadcasts in the local market if a game is not sold out. One of the members of the Federal Communications Commission, Ajit Pai, was in Ohio last week calling for the end of the rule.
"I think whatever validity the rule might have had back in 1975 when we adopted it, it's outlived its usefulness and it harms fans all across the country."
But Fudge and others who oppose the change cite concern that the NFL and other leagues may shift their games to cable TV if the blackout rule ends. In a letter to the FCC Tuesday, the black caucus said that would hurt poor and minority viewers who can't afford the pricey cable packages.
---
---
---
Stories with Recent Comments