When John Kasich met with supporters in Beavercreek earlier this week, he didn't mention his opponent in November. Instead, he talked about what he'd like to do in his second term….including another tax cut. But he didn't give details on how he'd do that. Kasich brushed aside a notion from one of the campaign stop's attendees that he could run for President in 2016.
"Can we just go through this election and get this done," laments Kasich. He refers to the media nex: "They are all going to have their microphones; 'Is he going to run?'"

Kasich responds to his own posit.
"I haven't really seriously given it any thought. I tried it once you know and in case you haven't noticed, I didn't win."
Kasich reframes Senate Bill 5 in TV ads
One thing he's not talking about on the campaign trail is the very issue that he was under fire for in 2011. Back then, there were many protests at the Statehouse as the Legislature passed S.B. 5, a bill that took away collective bargaining rights from public employees.

Kasich signed it. That angered unions representing teachers, firefighters and police officers, who then collected signatures to put the issue before Ohio voters. And voters repealed that law.

But now, Kasich's latest ad features a police officer, Lt. Steve Cesaro of the Perry Township Police Department.

"When John Kasich became governor, he shook things up and upset working people, including me. Kasich's tough but you know what, he listened. Nearly 250,000 new jobs have been created."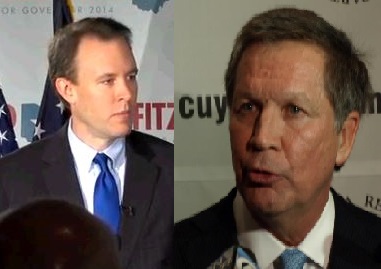 Democrats challenge Kasich's job growth claims
But Democrats are quick to say many of those jobs came from the recovery that was put in place by former Governor Ted Strickland, Kasich's Democratic opponent in 2010. And a new study by a liberal-leaning think tank says for the first time since 2007, Ohio has more low-wage jobs than medium- or high-wage jobs.

Dale Butland with Innovation Ohio says a new study shows Kasich's job strategy isn't working as well as he says it is.
"What we found is that while 9 out of 10 jobs lost during the great recession paid medium or high wages, low paying jobs now account for nearly all of the job growth in this state during the recovery. And for the first time since 2007, low wage jobs now comprise the highest share of the job market in this state."
Kasich's spokesman, Rob Nichols, says the methodology in Innovation Ohio's report is flawed. Nichols says the study used comparisons from labor statistics over time and says that doesn't lead to an accurate conclusion.

But FitzGerald says Ohio needs a governor who will raise the minimum wage and focus on growing the economy from the middle out, rather than Kasich's trickle-down approach. And despite the new Kasich ad featuring a police officer, the state's largest police organization, the Ohio Fraternal Order of Police, has endorsed FitzGerald.