Loading...


Government and Politics



Thursday, August 21, 2014




Cleveland commission chooses famous architect to design bridge




Pedestrian and bike bridge will connect waterfront to convention center




by WKSU's LYNDSEY SCHLEY



Reporter
Lyndsey Schley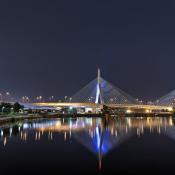 Miquel Rosales designed the Leonard P. Zakim Bunker Hill Memorial Bridge in Boston, MA.
Courtesy of Bill Damon
Download (WKSU Only)
In The Region:
Cleveland's Group Plan Commission has chosen a nationally known architect and design firm to build a new pedestrian bridge to connect the Cleveland lakefront to the convention district. The commission chose architect Miquel Rosales, famous for Boston's Y-shaped Zakim suspension bridge, and the engineering firm Parsons Brinckerhoff to head the project. Chris Ronayne is president of University Circle and was on the selection committee. He says the bridge will be visible among many Cleveland landmarks.
"So motorists are going to see it," Ronayne says. "Pedestrians are going to see it. Everyday workers are going to see this bridge everyday so we want it to be something that's symbolic of where Cleveland's going: innovative progressive and first-class ."
Ronayne says the pedestrian and bike bridge has a $25 million budget. The Commission hopes to complete it in time for the 2016 Republican National Convention.
---
---
---
Stories with Recent Comments