Loading...


Government and Politics



Thursday, August 21, 2014




Faith leaders hold week-long prayer vigil at Ohio Statehouse




Participants say they hope to shift the focus of government to important issues




by WKSU's STATEHOUSE CORRESPONDENT JO INGLES



Reporter
Jo Ingles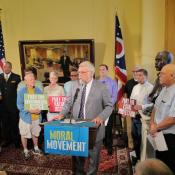 Rev. Tim Ahrens of First Congregational Church, Columbus (center) with leaders and members of several faith groups discuss the prayer week.
Courtesy of Jo Ingles
Download (WKSU Only)
In The Region:
Faith leaders throughout Ohio are starting a week long prayer vigil at the Ohio Statehouse. It is based on the Moral Monday movement in North Carolina, where participants engage in peaceful demonstrations to protest the government's stand on important issues. The Rev. Mark Diemer of Columbus says this is not a protest against conservative issues, but an effort to get politicians to shift their focus from the privileged to those in need.
"We need to call our legislators to pay attention to those who are the most vulnerable," Diemer says. "Many of the decisions that are being made right now are directed to politics, not to the people that they serve. And that's the extremism that we have. It's political agendas. And that could be on either side."
The group will be praying about different issues each day, including education, the justice system, health care, women's rights, young Ohioans and economic justice.
---
---
---
Stories with Recent Comments