Loading...


Economy and Business



Thursday, August 21, 2014




U.S. Labor Secretary stops by Cleveland to talk about job trends




Secretary Perez says while last month was bad for Ohio, the state as a whole is doing well




Story by

BRIAN BULL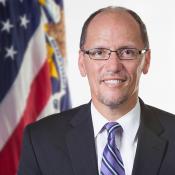 U.S. Secretary of Labor Thomas Perez spoke in Cleveland today.
Courtesy of U.S. Department of Labor
Download (WKSU Only)
In The Region:
U.S. Secretary of Labor Thomas Perez says both national and Ohio job numbers are a reason for optimism. Perez told the audience at the Cleveland City Club that more total jobs have been added in the first half of a year than any year since 1999. But in July, Ohio led the U.S. in job losses. Secretary Perez says not to read too much into those numbers right now.
"One month doesn't make a trend," Perez says. "And you look at Ohio over the last 12 months, clearly moving in the right direction. The overall unemployment rate I think is 5.7 percent. And manufacturing is outperforming the nation, and the nation is doing well. And by the way, these are good middle-class jobs."
Perez says the Obama Administration's push to increase the minimum wage, and efforts to make education more affordable and accessible, are ways to stave off long-term unemployment.
---
---
Stories with Recent Comments