Loading...


Government and Politics



Friday, August 22, 2014




Ohio Senate president weighs in on Common Core -- without committing




Sen. Keith Faber was noncomittal on the repeal bill




by WKSU's ANDY CHOW



Reporter
Andy Chow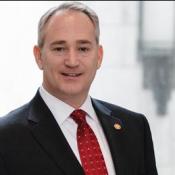 Ohio Senate President Keith Faber says he will look into the Common Core repeal bill if it gets through the House.
Courtesy of Ohio Statehouse
Download (WKSU Only)
In The Region:
The Ohio House is preparing to conduct a second week of hearings on a controversial proposal to repeal the Common Core, the standards created by education experts from around the country, including Ohio. Opponents, including conservative bloggers, say the Common Core represents a federal takeover of education. But top Republican leaders including Gov. John Kasich and Senate Education Committee Chair Peggy Lehner have disputed that argument. Now Senate President Keith Faber of Celina is weighing in. He says he is prepared to take a good look at the bill if it were to pass the House.
"We're gonna have to make sure we take the time to make sure we hear what is there but first thing to see if the House is going to pass anything and I'm curious if they do do a repeal what they are going to replace it with," Faber says. "We want to make sure we still have academic challenges in Ohio schools."
But neither Faber nor Kasich have committed one way or another on the bill.
---
---
---
Stories with Recent Comments