They call blimps "yachts of the sky." So it was fitting that Wingfoot One got a traditional ship's launch.
"I christen thee, Wingfoot One!"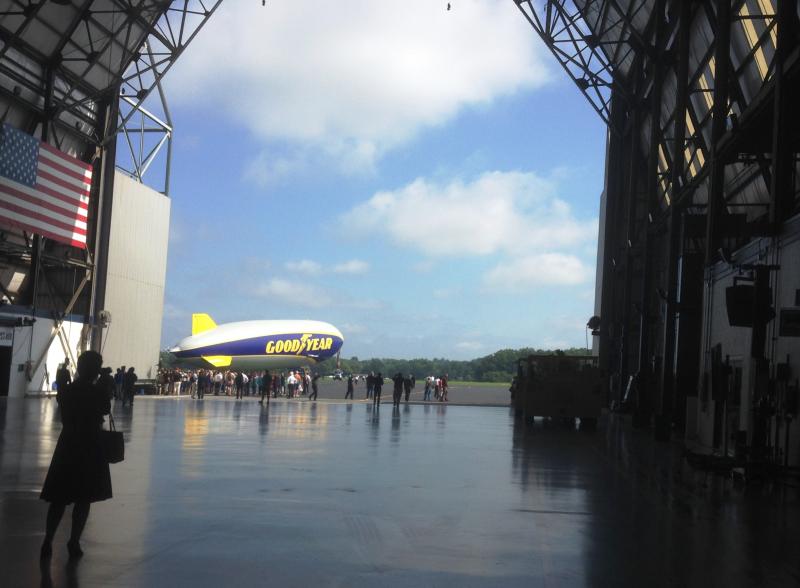 More than 2,000 people were watching that moment under the jutting steel girders of the cavernous Wingfoot Lake hangar -- which didn't look quite so cavernous. That's because the airship -- nearly the length of a football field, and more than six stories high – dominates even this space.
Goodyear's media relations director, Keith Price, knows his blimps. Still, even he was surprised.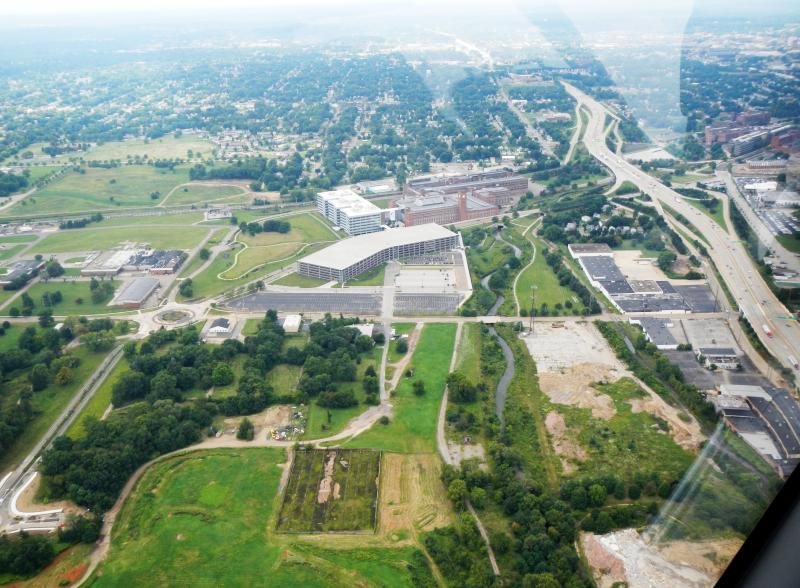 "I've been here 20 years and have seen the blimp in this hangar many, many, many times. And my first response when I came in and saw this blimp under construction, even before it was painted had the fins and the engine on it, was, 'Wow that thing is huge.'"
The difference between a blimp and a dirigible
It's also not technically a blimp. Built in partnership with Zeppelin NT, it's a dirigible. The difference is that Wingfoot One has aluminum and carbon fiber trusses framing the envelope, instead of being essentially just a really big, helium-filled balloon
And the difference is more than a technicality. That became very clear as Greg Poppenhouse – one of three Goodyear pilots trained in Germany to fly the new airship – answered questions in the spacious gondola as it floated over Northeast Ohio.
"The way we're talking right now, you could not talk in our old ships. It was that noisy because the engines were located right here (next to the gondola) -- where the engines on this one are located up in the envelope and one on the back."
Derek Jeter and the reason to hover
And that engine on the back has a lot to do with some of the other differences in how Wingfoot One looks and operates. Its propellers push it forward in the air. But when it comes to landing, they swivel to control pitch, and act like a tail rotor on a helicopter. So the airships that used to take-off and land like really slow airplanes, now navigate more like helicopters. Virtually straight up and down.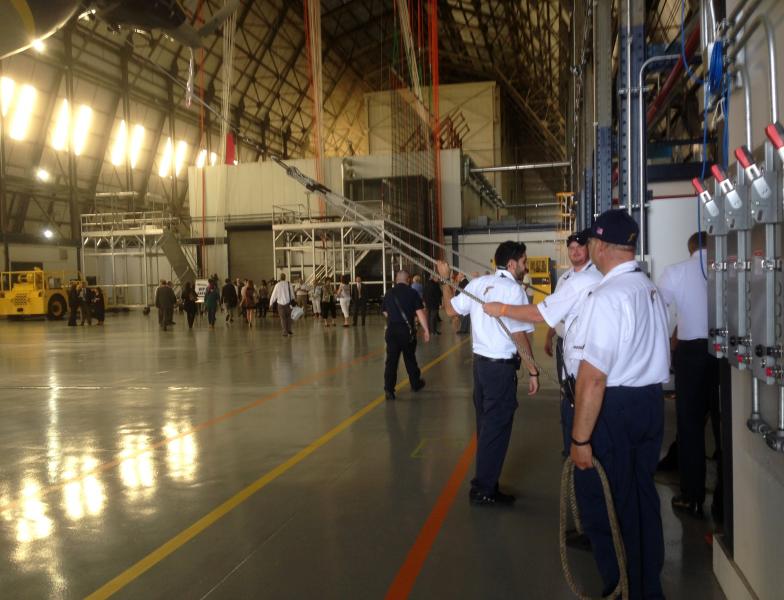 And they hover.
Poppenhouse says that's a quality in big demand for covering the world's biggest sporting events.
"Let's say Derek Jeter's up to bat. Well, the director will want the blimp right behind home plate so if he hits a homerun, we could follow the ball going out. With our older ships, we couldn't hover, so we're constantly making little left-hand circuits around the stadium. So we could only provide the director with that shot availability for only a couple minutes, and then we're out of position."
Faster and smoother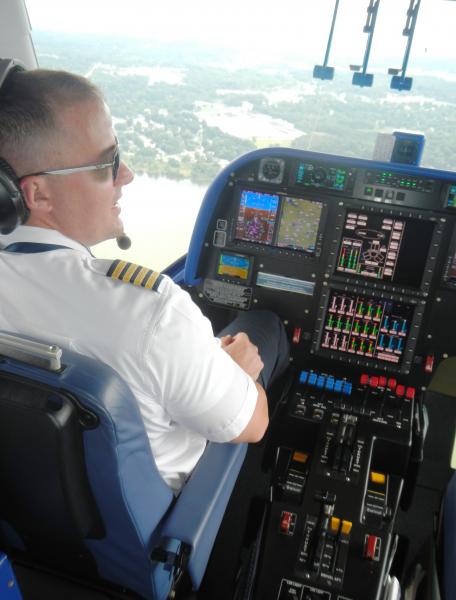 There are other differences. Wingfoot will cruise along at about 50 mph, and can top out at 73. The old ships hang back at around 35 mph.
A complex computer screen – the size of a small blackboard -- dominates the console between the pilots. And pilot Derek Reid keeps his ankles crossed during the flight because otherwise he'd be trying to work the control pedals that are no longer there.
In place of those pedals are more glass windows, ways to gaze out over lakes and fields and Goodyear's global headquarters.
Robin Roberts, family and sport
Once the aerial LED signboard system is installed, it'll be looking down over really big sporting events – starting with a yet-to-be selected college football game.
Those are the kind of events former ESPN anchor Robin Roberts – now of Good Morning American – used to cover.
"There's no better view than when the announcer says, 'And now from the Goodyear blimp …' and you look down and there's this mass of people."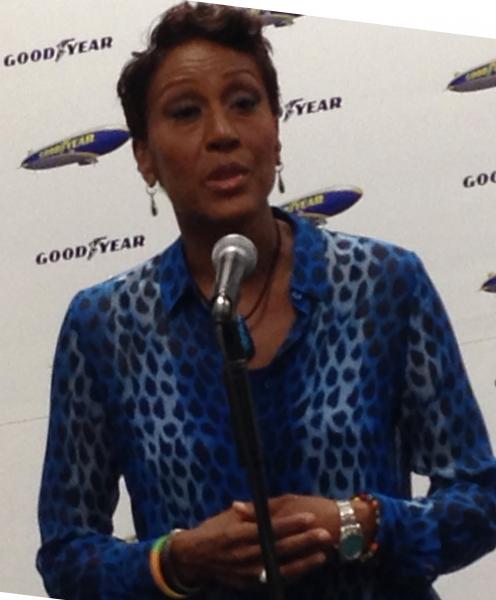 Roberts was chosen to christen Wingfoot One in part because her grandfather, George Suddeth, led the family north from Jackson Gap, Alabama, in 1918 to work at Goodyear.
"I feel my family. I feel my great grandfather. My father who was a Tuskee airman. Aviation, if this journalism thing didn't work out, aviation was my plan B. I wanted to be a pilot."
And Roberts says her family's story is that of so many who built America's manufacturing region through two World Wars and beyond.
Branding is key
But what does all of this have to do with selling tires?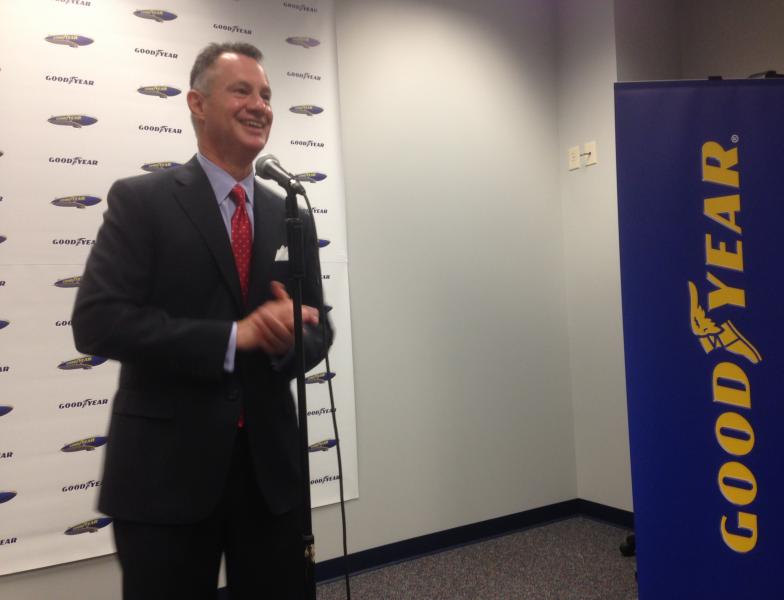 In a word, Goodyear CEO Richard Kramer told reporters: Everything.
"The brand is what makes a difference. That's true for tires just like its true for every other product category."
And in the blimp, Kramer says, Goodyear has a world-wide branding tool that no one else can match.
Jennifer Ryba is a Goodyear chemist, who brought her husband and daughter to the launch.
"We just have a lot of affection and love for it. At least I do. We see it fly over the parking lot at work and it's just 'Oh, the blimp!'… It's just a happy symbol and a good symbol of the company."
Two more of the newest versions of those happy symbols will be launched 2016 and 2018. Goodyear isn't revealing the cost.



Wingfoot One by the numbers: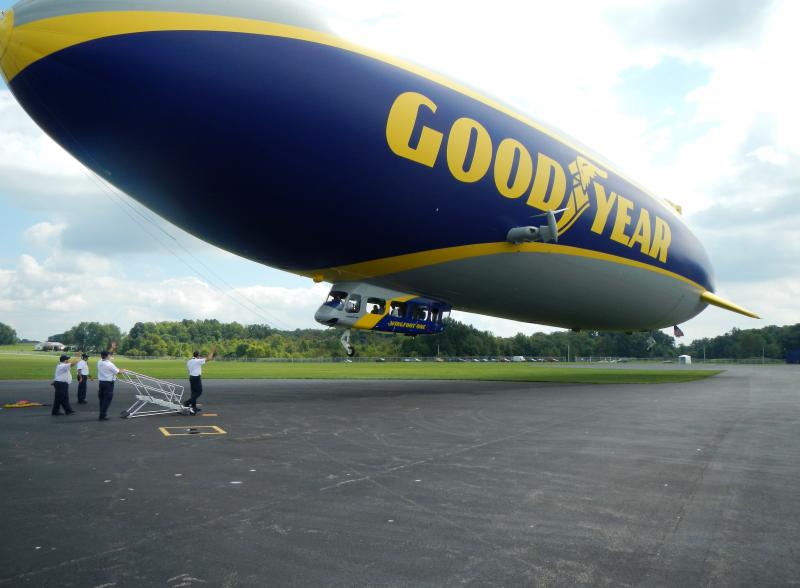 Length: 246.4 ft.
Width: 69.79 ft.
Height: 57.51 ft.
Envelop volume: 297,527 cu. Ft.
Maximum speed: 73 mph
Maximum weight: 19,780 lbs (without helium)
Gondola seating: 12 plus 2 crew
Noise level inside/outside the gondola; 64/69.4 decibels (compared to 110 in the on the GZ20A)
Source: Goodyear