Loading...


Government and Politics



Wednesday, August 27, 2014




Ohio Supreme Court says investigations into threats against the governor are not public record




Its unanimous ruling today cites an exemption for security records


by WKSU's M.L. SCHULTZE


Web Editor
M.L. Schultze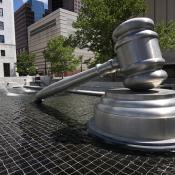 The state high court says public records law doesn't cover threats against Gov. Kasich.
Courtesy of File photo
Download (WKSU Only)
In The Region:
The Ohio Supreme Court says threats against the governor are not public record. In a unanimous ruling, the court today denied a request from a liberal blogger for reports from the Ohio Department of Public Safety of threats made to Gov. John Kasich. Among other things, Plunderbund Media wanted the copies of the final investigations into those threats. The court said all of that qualifies under Ohio's public records law as security records, which are exempt from disclosure. Tim Smith, a professor emeritus at Kent State and former managing editor of the Akron Beacon Journal, says the court has been narrowing the definition of public records.
"I think this is just an example of the general reluctance of a Republican administration to reveal information, and it's backed up by a Supreme Court that typically rejects requests for access."
The court said the definition of security records includes those used to "protect and maintain the security of a public office against attack, interference, or sabotage."
Plunderbund had argued that the definition extends only to records created to protect the physical facilities of the governor's office.
---
---
---
Stories with Recent Comments