Loading...


Ohio



Wednesday, August 27, 2014




Plane that crashed killing Case students is a popular training aircraft




Investigators still looking into what the caused the generally safe and easy to fly Cessna 172-R to go down


by WKSU's KEVIN NIEDERMIER


Reporter
Kevin Niedermier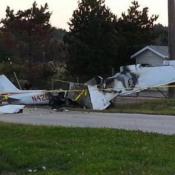 Investigators are try to determine what caused this Cessna 172-R to crash, killing everyone on board.
Courtesy of WKYC
Download (WKSU Only)
In The Region:
The small plane the crashed Monday killing all four Case Western Reserve University students onboard is a popular model for flight training.

Ben Satyshur is an instructor and aviation safety manager for Kent State University's flight school, which has five of those planes in its training fleet.

The aircraft is designed to carry a maximum load of 764 pounds. Satyshur says the Cessna 172-R has a good safety record and is easy to fly, even fully loaded.
"They have a normal take-off speed and all those take-off speeds and climb speeds are based on the max gross take-off weight, so it will fly just fine at its maximum weight, it just flies better if it's at the maximum gross take-off weight."
It's not known if excess weight, pilot error or a mechanical problem caused the crash. The pilot radioed that he was having trouble gaining altitude. The National Transportation Safety Board could have a preliminary report in about a week on why the plane went down.
---
---
---
Stories with Recent Comments