Loading...


Courts and Crime



Wednesday, August 27, 2014




Ohio Amish hate-crime convictions are overturned




Appeals court says jury in the trial of Sam Mullet and his followers was not given the proper instructions regarding religion and hate crimes


by WKSU's KEVIN NIEDERMIER


Reporter
Kevin Niedermier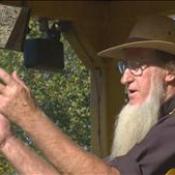 Sam Mullet Sr. and his followers could get a new trial following today's appeals court reversal of their beard-cutting convictions.
Courtesy of WKYC
Download (WKSU Only)
In The Region:
A federal appeals court has overturned the beard-cutting convictions of an Amish bishop and 15 of his followers.

Sam Mullet was convicted of orchestrating the attacks on other Amish, which prosecutors say were hate crimes, but the defense argues were only family disputes.
The 6th Circuit Court of Appeals overturned the convictions based on what it says were incorrect jury instructions on how to weigh the role of religion in the attacks.

Federal prosecutors say the beard cuttings by Sam Mullet's breakaway Amish sect were committed because of the victim's religion, which constitutes a hate crime. The appeals court says there was considerable evidence that the attacks based on personal disagreements, not rejections of Mullet's strict religious rules.

Last year, Mullet was sentenced to 15 years in prison for ordering the attacks in and around the Ohio community of Bergholtz in Jefferson County. His 15 followers, who carried out the beard cuttings, are serving one to seven-year sentences. The reversal could mean Mullet and his followers will get a new trial.

In a written statement, the U.S. Attorney's office in Cleveland says it respectfully disagrees with the appeals court decision, and is considering its options.
Meanwhile, "We remain in awe of the courage of the victims in this case, who were subject to violent attacks by the defendants."
---
---
---
Stories with Recent Comments