"They brought jobs from Mexico, we're starting to see on-shoring occur again. Republic Steel, I never thought I'd see another steel plant move here, and it moved from Mexico and is being funded by Mexico."
About 65 miles south of where Gov. Kasich was accepting the endorsement of manufacturers, his Democratic opponent was doing a meet-and-greet with organized labor at the Stark County Fair.
At the AFL-CIO booth, Ed FitzGerald directed the conversation toward the part of Kasich's record that is red-meat for unions – his support for S.B. 5, which would have severely curtailed collective bargaining rights for public employees.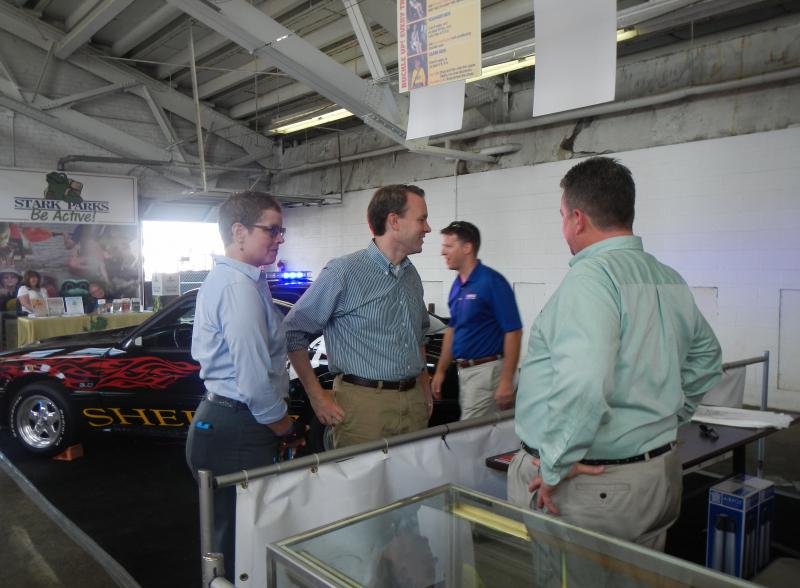 And FitzGerald brushed off a reporter's question about revelations that he lacked a driver's license for nearly a decade – by contrasting it with Kasich's previous job.
Other options:

Windows Media
/

MP3 Download
(0:10)
"Is that a greater mistake than somebody that worked for Lehman brothers, which ended up going bankrupt and lost hundreds of millions of dollars in public pension money right here in Ohio."
FitzGerald also denied he's giving up the fight against Kasich, despite money woes and the departure of key staffers. Instead of expensive media buys, he says he's focusing on face-to-face contacts with voters.