Loading...



From WKYC.COM / TV 3
Get the latest school closings and delays


Funding for WKSU is made possible in part through support from the following businesses and organizations.
---
For more information on how your company or organization can support WKSU, download the WKSU Media Kit.

(WKSU Media Kit


)
---

Government and Politics



Thursday, August 28, 2014




Crystal Ball says Ohio governor's race is done




FitzGerald says: 'What does Virginia know?'




Story by

M.L. SCHULTZE AND ANDY CHOW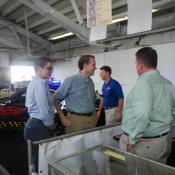 FitzGerald insists he isn't giving up, just streamlining and focusing on face-to-face campaigning.
Courtesy of M.L. SCHULTZE
Download (WKSU Only)
In The Region:
The University of Virginia's Crystal Ball is the latest political prognosticator to declare Ohio's governor's race is virtually over. It's putting incumbent Gov. John Kasich in the "safe" category. The report says the already long-shot hopes for Democrat Ed FitzGerald have grown longer since reports surfaced that FitzGerald was found parked with a woman in his car at 4:30 in the morning two years ago. Then came revelations that he had not had a regular driver's license for nearly a decade. The editor of the Crystal Ball, Kyle Kondik, says FitzGerald's problems have scared national Democrats away.
"What the recent stories do is they sort of confirm this belief amongst ng many, that he just really wasn't a viable candidiate. If they're going to try to win some Republican-held governor's races this year, they have many other targets where they could spend their money."
But FitzGerald – who was stumping the Stark County Fair shortly after Crystal Ball issued its prediction -- insists he's speaking to far more important issues like jobs and education.
Other options:
Windows Media
/
MP3 Download
(0:11)
"That's how you win elections. You talk about issues that people actually care about. And I don't know what some guy from Virginia cares about, but for people who actually live here, those are the issues that actually matter to them."
Crystal Ball says a strong showing by Kasich in November could also boost his presidential hopes for 2016.
Page Options

Print this page

E-Mail this page / Send mp3

Share on Facebook
---
---
Stories with Recent Comments