Loading...


Education



Wednesday, September 3, 2014




Perry Township starts using emergency radios within schools




The police chief says the radios are already reducing response times




by WKSU's LYNDSEY SCHLEY



Reporter
Lyndsey Schley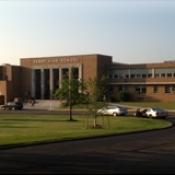 Perry High Schools is one of schools within Perry Townships that will have new radio devices.
Courtesy of Perry Local Schools
Download (WKSU Only)
In The Region:
A suburg in Stark county is implementing a new emergency response system in schools that it expects will reduce response times in the event of emergencies. Perry Township Police Chief Mike Pomesky says during an emergency, cell phone towers can jam because of too many calls. That makes contact between first responders and school officials a challenge. He says the new radio system allows school administrators to quickly contact police. Pomesky says they are already seeing benefits.
"We've had two occasions already this year where school administrators have picked up that radio to contact our dispatch facility, and it drastically reduced our time to get there and get help for those students," Pomesky says.
Pomesky says the overall system has cost $75,000 over the last five years.
---
---
---
Stories with Recent Comments