Loading...


Courts and Crime



Wednesday, September 3, 2014




Brennan's Colony killing making it harder for felons to find jobs




One of Jim Brennan's alleged killers was a felon he hired; now other potential employers are more wary of ex-cons


by WKSU's KEVIN NIEDERMIER


Reporter
Kevin Niedermier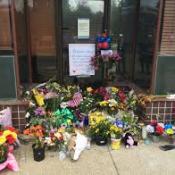 Items left at the front door of Brennan's Colony following the fatal shooting of owner Jim Brennan in June.
Courtesy of Kabir Bhatia
Download (WKSU Only)
In The Region:
Convicted felons are having a tougher time finding jobs after the murder of Cleveland Heights bar owner Jim Brennan. As WKSU's Kevin Niedermier reports, since the fatal June shooting at Brennan's Colony, many potential employers are having second thoughts.
One of the men charged with aggravated murder in the Brennan case, Brandon Jones, is a convicted felon Brennan hired to work in his kitchen. Police say Jones and three other men were trying to rob the establishment when Brennan was killed.

Ann Connell-Freund is vice president of operations at Oriana House, which helps ex-cons get their lives on track after leaving prison. She says the Brennan killing has made her job harder.
"It has had an impact on our population; it has had an impact on employers making those kinds of decisions. ... Now we're see that our clients are taking a month or two to get a job, whereas before it used to be a week or two."

Connell-Freund says it's important not to judge all felons by the actions of some. The suspects in the Brennan shooting have all pleaded not guilty.
---
---
---
Stories with Recent Comments