Loading...


Government and Politics



Wednesday, September 3, 2014




Cleveland voters will decide in November on red light traffic cameras




City council voted today to avoid an expensive special election


by WKSU's KEVIN NIEDERMIER


Reporter
Kevin Niedermier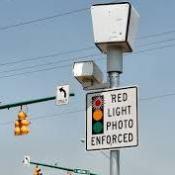 Cleveland voters will decide the fate of the city's red light cameras in November.
Courtesy of WKSU
Download (WKSU Only)
In The Region:
Cleveland City Council today approved letting residents vote this fall on the fate of the city' 56 red-light traffic cameras. City Council had to beat Friday' filing deadline or the city would have had to schedule a taxpayer-funded special election costing about $760,000. 
City Councilman Zack Reed says the vote was unanimous, "so this November, the voters of Cleveland will have the opportunity to vote on whether or not they want to keep the red-light cameras or abolish them."
The citizen-led ballot measure would ban the red-light cameras unless a police officer is sitting along-side to personally issue a ticket if the camera catches an infraction.

Reed and others say this defeats the purpose of giving police more time to work on more serious crimes. Some Ohio lawmakers are trying to ban the cameras statewide. And the Ohio Supreme Court is considering a challenge to Toledo's camera appeals process.  
---
---
---
Stories with Recent Comments