Loading...


Education



Friday, September 5, 2014




Garfield Heights wants to avoid a repeat of last week's football game




Fights led to a double-forfeit against Collinwood, and Garfield takes on Berea tonight


by WKSU's KABIR BHATIA


Reporter
Kabir Bhatia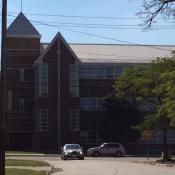 Garfield Heights plays Berea tonight, and neither school wants a replay of last week's Garfield v. Collinwood game, which was ended in the third quarter by officials following fights in the stands and on the field
Courtesy of K. Bhatia
Download (WKSU Only)
In The Region:
A week after fights led to a double-forfeit at a Garfield Heights High School football game, the district is trying to minimize the chance of a repeat versus Berea-Midpark tonight. WKSU's Kabir Bhatia reports.
Last Friday's game against Collinwood was cancelled – with both teams taking a loss – after a fight broke out in the stands, followed by an altercation between the teams on the field. The school district did not return calls for comment, but Tony Sanna runs A&A Comics just up the street and says the situation has been blown out of proportion.

"It was almost four or five days later that somebody came in and told me about the incident at the high school game. Most of the people in Garfield are well-behaved so, minor scuffles but nothing that you wouldn't see in any other town."

On the flip side, Bill Goins is a lifelong Garfield Heights resident and was working at a nearby pizza joint when the fights broke out.

"This city has been on a downgrade for years. Last year, we had a kid shot right on Turney Road as he got off the bus. We got parents and kids themselves getting robbed on their streets. It's not getting better, it's getting worse."

The Garfield Heights School District has released a statement saying it does not tolerate such behavior, and that 11 students will be disciplined for their involvement in the fights.
---
---
---
Stories with Recent Comments