Loading...


Health and Medicine



Thursday, October 2, 2014




Community group sues to re-open part of Wadsworth hospital




Summa health says traffic in the inpatient unit at Wadsworth-Rittman Hospital has been declining for years


by WKSU's KABIR BHATIA


Reporter
Kabir Bhatia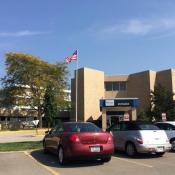 Summa shuttered Wadsworth-Rittman's inpatient facility in July, and a citizens' group is suing to have it reopened
Courtesy of K. Bhatia
Download (WKSU Only)
In The Region:
A Wadsworth citizens' group is suing Summa Health System to re-gain control of the city's hospital. WKSU's Kabir Bhatia reports.
Wadsworth-Rittman Hospital was controlled by a township group from 1965 until Summa bought the facility for a dollar back in 2008.

Jeffrey Witschey, a lawyer for the group, says Summa agreed to give the hospital back if it stopped operating a full-service inpatient unit there. And that's what happened three months ago.

"There's, we believe, a strong need for inpatient care in a community hospital in Wadsworth. And we know of other healthcare organizations that we believe would have an interest in it and think that there is a demand for that. And we will be in further discussions with some of those healthcare organizations. I'm not free to say who they are, at this point."

The lawsuit seeks to either re-gain control of Wadsworth-Rittman, or about $30 million for the hospital.

In a statement, Summa says inpatient traffic has declined in recent years. The hospital system says it's open to discussion for alternatives, but it will not reopen that part of the hospital.
---
---
---
Stories with Recent Comments