J.R. Campbell is best known for his work in digital textile technology. He launched Kent's TechStyleLab in 2009 for students to explore the connections between computers and fashion. At the Fashion School's recent hackathon, students from all over the country competed for prizes for imbedded and wearable technology designs.
Meanwhile Campbell's own computer-aided artistry is on display at the Kent
School of Art's downtown gallery.
Twenty years of research and design in digital textile tech
Campbell's wearable art concepts have been shown in 70 exhibitions worldwide, though this is the first exhibit in the Akron-Cleveland area. He employs the latest imaging technologies, including digital ink-jet printing, to make fabrics and patterns that are as much sculptures as garments.
"At the core, I'm an image maker. But I like it to be always with clothing or with cloth."
He calls the works in the exhibition "Wearable Spaces," because "these pieces are all concepts that could be worn or at least convey wearability."
Wool, silk, and satin fabrics in vibrant colors and intricate patterns hang from rods or along walls. These are large three-dimensional panels, some as much as 8 feet wide.
Videos show how clothing creates an environment
Some pieces have videos projected onto them. Others have jackets zipped in.
"The jacket blends into the imagery. The idea is that you can literally try it on and get into the piece and become part of the art work and thus part of the environment."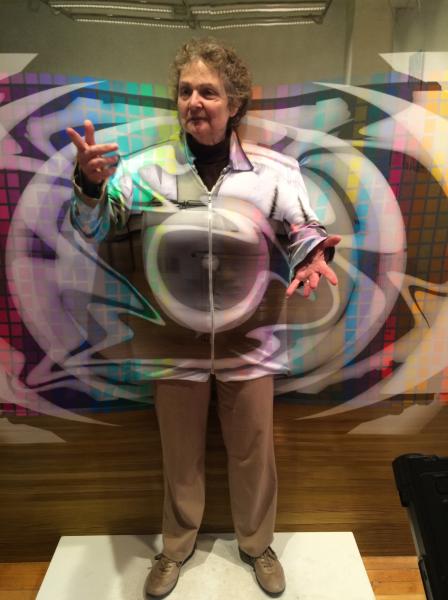 We step on a platform in front of a panel of wool delaine cloth, digitally printed with reactive dyes, to watch a video of our arm slipping into the sleeve of a comfortable stretch knit jacket hanging off of it. Campbell tells us not to worry about damaging the art and to just try to be part of it.
"That's exactly the point. It's not a precious item. It's a way to play around with your experience in the space and how clothing connects to that."
Getting into his art, physically, the viewer is expected to get Campbell's point: that garments are environments.
"You can ... see yourself sort of blend into the piece by watching the video that's on the adjacent wall."
Fooling the eye
As you watch, it becomes difficult to see where the art begins and you end.
"What I like about some of these pieces and what we can do with clothing is a little bit of a tromp l'oeil effect, the idea that you're fooling the eye."
Campbell says designers use tromp l'oeil in the composition of garments.
"When we're thinking about what will sell well, what makes people look better,
what kind of silhouettes, what kind of printed imagery, etc. And sometimes I like to play with it to the full extent to the point where we can't quite tell where we are in the space when we're wearing these pieces."
To help orient the viewer, a model in a projected video demonstrates how to remove and clothe oneself in the art.
"She's showing how the piece can be unzipped from the wall and zipped up to itself to become a jacket that's wearable."
The gallery jacket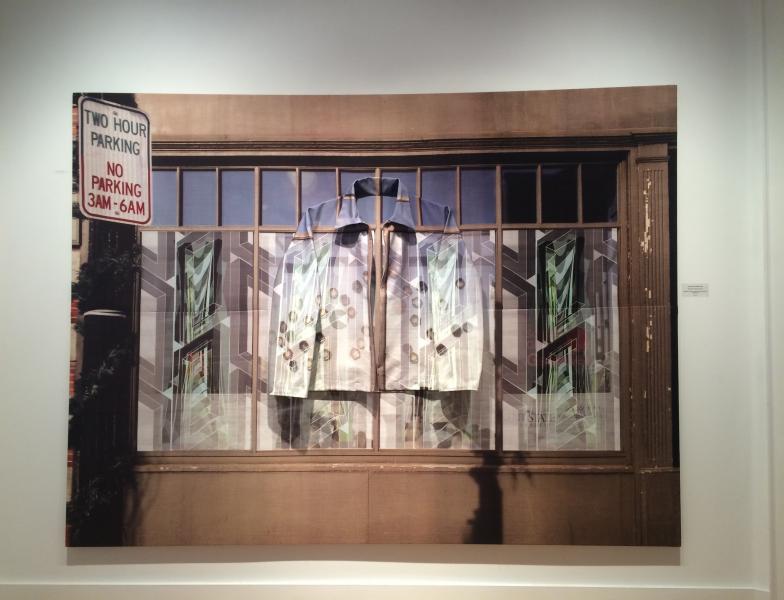 In another jacket wall piece, Campbell gives a nod to the exhibition's venue, using an image of the front of the Downtown Art Gallery itself.
"In all of the window frames I've laid in my own sort of art compositions, some textile repeat designs, and then again have embedded a jacket into the composition of the piece, printed in our TechStyle lab on a cotton denim fabric."
A more formal piece in the exhibition is a reversible digitally printed silk and satin kimono.
"There's a rich tradition of kimono as an art form and as a wearable."
This one features a digitally-printed image of early 20th century Scottish architect Charles Rennie Mackintosh's iconic building, The Glasgow School of Art, where Campbell was on the faculty. It's partly an homage to Mackintosh, who turned to textile design late in his career.
"But (it) also kind of fits in this space as a literal architectural wearable because of
the image that's used as the inside of the piece."
The body as a vessel flowing through the cloth
Another dress in the exhibition is not as obviously wearable. From side to side of a two-sided piece titled "Moving Through," there's a tube of fabric sewn in.
"So there's actually a spot at which the body could go through the fabric. So if I take this off the rods and pull the rods out, I can actually pull the tube up and inside out and it can become a tube dress."
Campbell credits a London colleague, Julian Roberts, as inspiration for works like "Moving Through."
"Part of his approach was that instead of thinking about how do we create shapes of fabric that fit over the body, why don't we think about the body as a vessel or a cylinder that flows through fabric."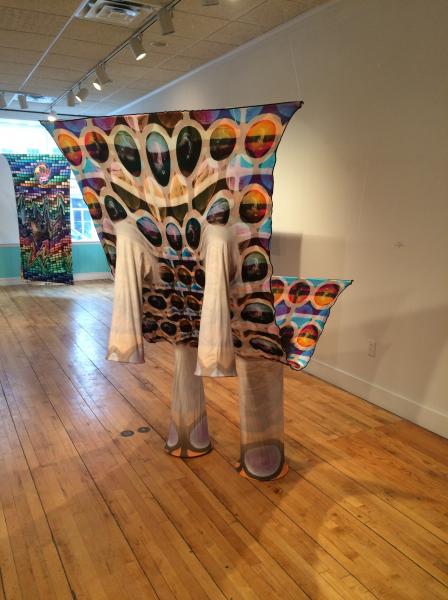 Tubes, sleeves, and what look like leggings hang off much of Campbell's wearable art.
"They feel a little bit comical. Most people when we see these we begin to think about what it would be like to stick our arm in or a leg in."
Doing so is meant to raise a question in the viewer's mind.
"How do we perceive ourselves or what we wear in physical spaces?"
More like humans, less like robots
In an era of rapid development of wearable computing devices like smart watches, and health and fitness monitors, Campbell says fashion can play a humanizing role.
"I don't think it will mean that we move towards looking more like machines. I think it will actually be the opposite, and that there's a real interest in bringing the machine closer to humanness."
That may require chemists, engineers and code developers to step out of their labs and down the runway into the fashion world.
"Because since we began touching cloth, textiles have been a very close and personal barrier or interaction with the outside world: A mode of expression, something that we can associate with and use as a form of communication. And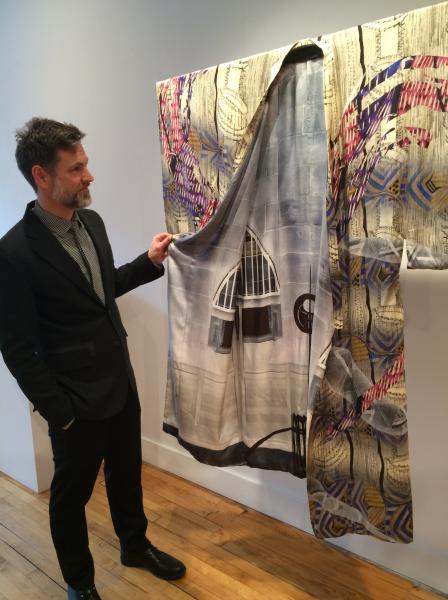 so wearables in technology is important to include really in-depth knowledge of fashion and fashion thinking as well."
Art and commerce
Campbell's work on display in Kent is art for art's sake, but it could lead to commercial applications.
"I think of my work really as non-commercial, non-business influential, but certainly elements of the work could be used as inspiration for new product creation or just new ways of thinking about how we interact with clothing."
"Wearable Spaces" remains on view at Kent State's Downtown Gallery on Main Street, through Feb. 14th.