Loading...



From WKYC.COM / TV 3
Get the latest school closings and delays


Funding for WKSU is made possible in part through support from the following businesses and organizations.
---
For more information on how your company or organization can support WKSU, download the WKSU Media Kit.

(WKSU Media Kit


)
---

Government and Politics




Thursday, August 20, 2015




Millennials invited to discuss mayoral election at 'Up for Debate Ohio'




The goal is to find out how voters under 35 get their election information


by WKSU's KABIR BHATIA
This story is part of a special series.



Reporter
Kabir Bhatia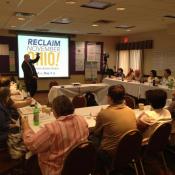 In 2012, the Jefferson Center event drew from registered voter rolls to find average folks to represent voters in the then-new new 16th district
Courtesy of WKSU
Download (WKSU Only)
In The Region:
Over the next two days, millennial voters in Akron are being invited to discussion groups regarding the upcoming mayoral election. WKSU's Kabir Bhatia reports.
The public-policy non-profit Jefferson Center is hosting the forums, titled "Up For Debate Ohio." They're the first piece of a months-long project to find out where young voters get election information, and what they think of sources such as local media, campaign ads and candidate debates.

Jefferson Center Executive Director Kyle Bozentko says the goal is to create an online catalog of information that's valuable to voters.

"When you look at other areas of information in terms of trustworthiness and things like approval ratings, people are willing to trust and listen to one another. But they don't always want to rely on campaigns and other things for their information. And so that's one of the things we're trying to build into this."

Bozentko adds that the group's previous forums in Northeast Ohio have provided valuable insight into how voters think.

"What are young voters thinking about? Are they concerned? Are they aware of this election that's coming up? How are they getting their information? How are they trying to stay up-to-date with what's happening? But then also try to get a clear sense of whether or not the candidates are talking about issues that resonate and making younger voters want to be involved and see themselves as part of both community and local government function."

Bozentko says the candidates have agreed to provide some insight into their campaigns during the six-month project, which will include interfacing with the new Mayor after the election. A final report on the project is slated to be finished next spring.

The first forum is Friday night at 6 p.m. at Mustard Seed Market in Highland Square, and the second forum is Saturday at the Akron Public Library in North Hill at 11:00 a.m. WKSU News is a partner in "Up For Debate Ohio."
---
---
---